The Dell-EMC acquisition was announced on 12 October this year, with Dell buying EMC along with its 80 per cent holding in VMWare.
Since the deal was announced, VMWare shares (VMW) have lost considerable value compared to EMC's shares. Bernstein analyst Toni Sacconaghi thinks the EMC share price fall "can be attributed to the meaningful pull-back in VMW shares since the deal announcement."
If we chart both EMC and VMware stock prices over the last three months we can see how EMC shares have climbed and then fallen back, with VMware shares falling precipitately after the deal was announced.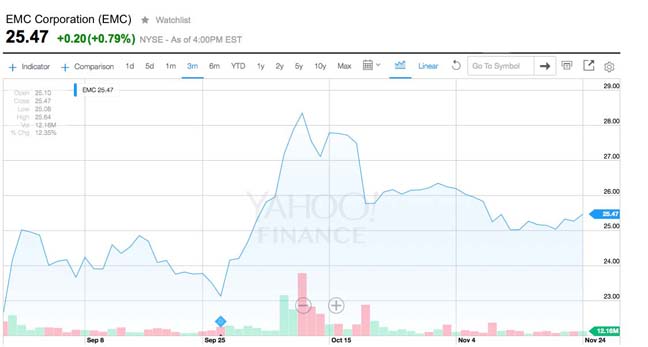 Three-month view of EMC's stock price (Source Yahoo)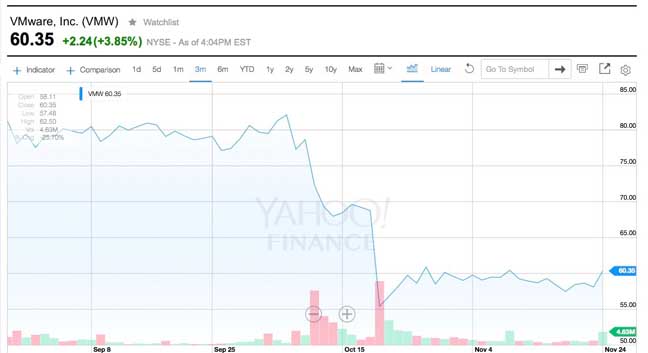 Three-month view of VMware's stock price (Source: Yahoo!)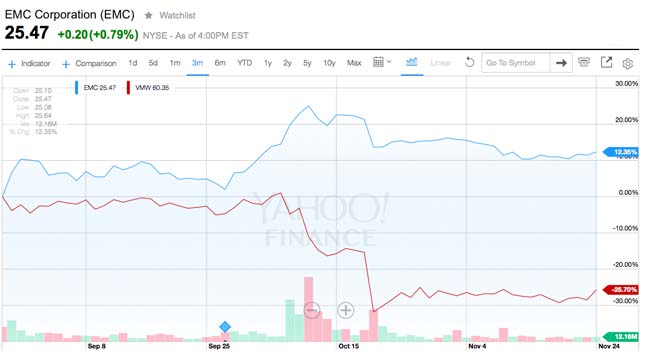 If we compare the two stocks in one chart, then we can see the
disparity in share price performance more clearly. Source: Yahoo Finance
Part of the deal's structure involves a 50:50 Virtustream joint venture between EMC and Dell, EMC having bought Virtuatream in May 2015.
Sacconaghi writes: "Several reasons have contributed to a decline in VMW's shares, the biggest of which we believe is concern over VMW's corporate governance under Dell. Specifically post-transaction, Dell would own <30 per cent of VMW economics yet control 97 per cent of voting power. This fear and uncertainty were exacerbated when VMW announced a dilutive Virtustream JV with EMC."
The analyst notes that EMC and VMware have postponed a scheduled roadshow to update investors this week. He thinks "EMC and VMW are likely reconsidering the Virtustream joint venture (it has been announced, but not legally consummated) given the shareholder backlash and subsequent negative impact on VMW's shares."
Another reason is this: "We suppose that EMC is approaching Dell/Silver Lake to see if they might consider changing any of the conditions/terms surrounding Dell's ownership of VMW and/or the tracking stock. With no credible deal alternative likely to emerge for EMC, Dell/Silver Lake's incentives are low, unless perhaps they can be convinced that doing so might improve retention of VMW employees, ultimately benefiting them in the process."
Sacconaghi still thinks the Dell buy is a good deal for EMC investors, seeing prospects of competing bids being low and the possible tax hurdle a solvable problem.
Given our belief that the transaction is likely to close, we believe the risk-reward is favourable for owning EMC shares.
He writes: "On balance, we believe the Dell-EMC deal will ultimately close. Investors are unlikely to vote down the deal (we see downside to potentially $20 per share), the break-up fees are large ($4bn - $6bn for Dell; $2bn - $2.5bn for EMC) and financing is likely locked in. Additionally, we do not see a white knight for VMW assets given the tax ramifications for EMC."
Watch this Virtustream space though. ®