Getting a little flashy! Funds are in place, and Kaminario targets growth
Pure? Pah! Scale-out beats scale up
---
Feature Kaminario CEO Dani Golan was in the UK yesterday, sporting a brand new EMEA veep and going gung-ho for growth from his scale-out, storage-for-all-seasons data centre flash array.
Which is a big deal, as the competition is wide-ranging and strong; Dell, EMC, Fujitsu, HDS, HP, IBM, Nexenta/SanDisk, Pure Storage, Solidfire, Tegile, Tintri, and Violin Memory plus X-IO, Mangstor and others.
Then let's not forget the, so-far, hybrid flash/disk-only Nimble Storage and sundry hyperconverged players such as Nutanix, SimpliVity, Maxta and whatnot, who want to banish physical SANs altogether.
To grow against this competitive roster Kaminario needs a better product, plus a set of channel partners and customers who are aware of its product and main features. Golan's company is building up its EMEA infrastructure to accomplish this.
Kaminario raised $15m in December 2014, a month after completing a $53m E-round. It accelerated its channel program in February. The funds are in place and a large growth push has started, with exec recruitment just part of it.
Mick Bradley is his veep and general manager for EMEA, joining this month after leaving a similar position at Violin Memory back in May, and was at HP prior to Violin. Golan also has a brand new EMEA marketing director, Fiona Moon, who left that role at Pure Storage in July, after having been at Commvault and Symantec before that.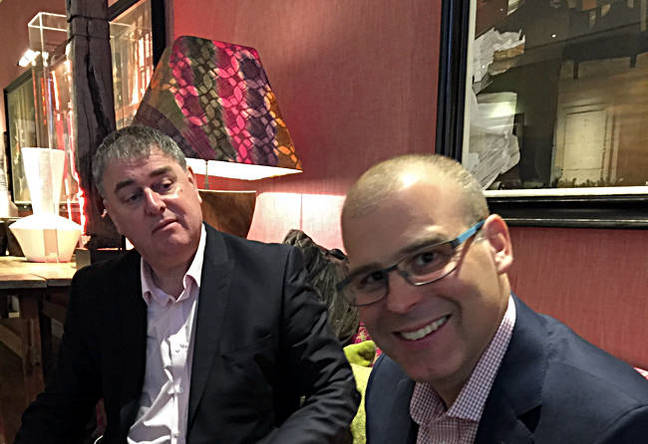 Mick Bradley (left) and Dani Golan in London
What did Dani think of Nimble's relatively poor quarterly results?
"Enterprises need all-flash arrays more than hybrids ... The modern data centre will reside on flash. It's not a question."
Kaminario can deliver more cost-effective arrays than the competition. He says flash's density improvement is increasing faster than Moore's Law would predict, and that's dropping prices. Kaminario started out by getting speed and reliability from consumer-grade flash, he says, and that focus continues. It was early into 3D MLC flash and early into 3D TLC flash.
The K2 array is general purpose data centre storage, and if flash is cheap enough then you don't need disk for bulk storage. K2s are high-performers, only recently having lost their SPC-2 benchmark crown to EMC and HP. Is he going to try and regain it? "I'm not going to tell you everything at once."
His arrays have an effective capacity guarantee, a minimum data reduction amount: "We're still the only one that will guarantee effective capacity ... no matter what. It's in the Ts and Cs." So that's one worry removed.
Golan is big on flexibility: "Customers don't know what will happen tomorrow. The only way to go is all-flash and all-Kaminario. Any other choice hinders their flexibility ... This is a platform that can grow no matter what."
It can scale performance and capacity separately or together and Golan says Kaminario arrays are easy to scale: "Today people jump straight in [and] throw away every piece of spinning disk out of their production."
What does Dani think of Pure's Evergreen business model under which customers get new controllers as part of the scheme?
"Our perpetual array was announced in August. We tell customers we're giving you a central backbone [against which] you can mix and match controllers. You don't have to take out the old stuff. You decide when and where to deploy faster controllers. You decide when you want to decommission. When you have scale-up architecture you don't have a choice ... you have to forklift the upgrade and throw away the old stuff ... when you reach your performance and capacity limit."
He says clearly: "Our approach is better than that of Pure Storage" which he characterises as only having a scale-up architecture, and no global deduplication as customers get with Kaminario. In other words, it's less efficient in its use of flash capacity, limited in its applicability, and forces change on customers where Kaminario does not.
How about NVMe flash interface technology?
"We don't yet need the performance edge NVMe flash provides. Our primary focus is on flash density and cost. NVMe by itself still has aways to go. When its price is driven down and it has the serviceability and availability of today's product, then we'll look to use it."
Comment
Perceptually Kaminario is in a second tier of all-flash array (AFA) vendors, behind EMC, Pure Storage and, arguably, HP and IBM. It has quite a task to accomplish to overturn this.
Obviously channel coverage will be vital, so as to find and fight for as many deals as possible. But product technology strengths will steadily come to the fore as well.
El Reg thinks that AFA vendors are mostly competing against disk arrays and not yet entering general competition against each other. The incumbents are often replacing their own disk arrays with flash product: XtremIO for VNX for example.
Once a real AFA vs AFA competition era starts then we'll see which AFA features really matter to customers. The disk tide will go out, so to speak, and we'll see which AFA vendors have been swimming without a costume, and which ones are wearing a Borat-style Mankini. ®