What a bum note: Violin's shares perform financial diminuendo
Flash storage upstart's stock needs some tonic as it crumples to $1.30 apiece
---
Violin Memory's stock price has plummeted to $1.30 from its IPO level of $7.51 on October 4, 2013. That's an 82.7 per cent fall in 25 months.
CEO Don Basile was axed in mid-December 2013 after the stock had fallen to $2.69; he was ousted as a result of the disastrous post-IPO business performance.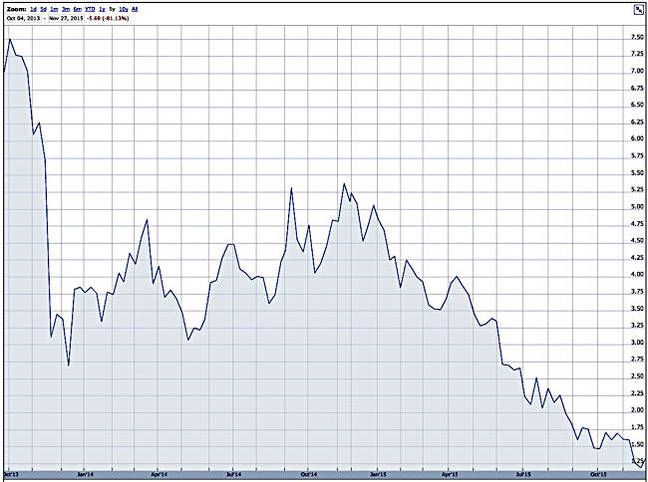 Violin Memory stock price history from (Source: Yahoo! Finance)
Kevin DeNuccio replaced Don Basile as Violin's CEO in February 2014. The stock price recovered to $5.38 on November 14, 2014, nine months later, but a year on from then it has fallen again to its $1.30 level. Can the biz survive this massive erosion of its value?
Despite updating and refreshing its all-flash array product set, and fixing holes such the missing deduplication, revenues have not recovered. Violin has suffered a self-imposed wound, so to speak, caused by enterprise sales force failures. This shortcoming resulted in Said Ouissal becoming the sales boss in June this year.
A fair amount of sales and channel staff recruitment has taken place. The second quarter of its 2016 financial year (which ended in July, 31 2015) showed sequential improvement on the first three months, but the overall revenue rot and loss-making has not stopped.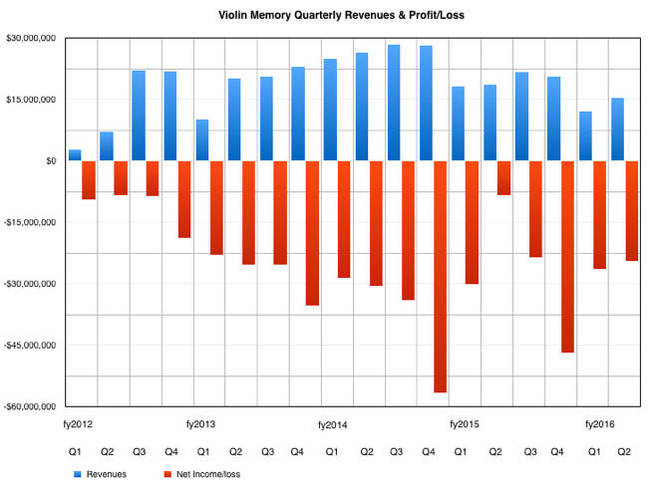 Violin quarterly results to the second quarter of fiscal 2016
Investors are losing faith. The red ink is frightening, and next quarter's revenues need to be significantly higher than the second quarter's for analysts to see strong signs of progress. If this doesn't happen then, in many people's view, DeNuccio will be toast and so will Violin.
The storage upstart is still in slow-motion train wreck mode, screeching and sliding towards disaster unless it can somehow grow itself out of trouble. There must be crossed fingers, crossed legs, and crossed everything in Violin's boardroom and executive offices as the third quarter reporting date, December 2, approaches.
On that day we'll either hear gasping sighs of heartfelt relief or screams of misery as the descent into post-IPO hell continues. What an incredible high-stakes game. ®