Ice cold: How hard man of storage made Everest climb look easy
Rack 'em and stack 'em: The only thing in the cloud was Sagarmatha's peak
Feature It's terrifyingly real, so true to life you are convinced the climbers are there, actually crossing the aluminium ladder bridge, poised above the terrifying drop of a Khumbu Glacier's ice-fall crevasse in Everest's Western Cwm.
Yet the actors actually clambered across a ladder bridge poised above rubber matting in the UK's Pinewood Studios, while a 50-man movie visual effects house in Iceland's capital Reykjavik created the hyper-real illusion that they were actually there, at 20,000 feet, breathing the thin cold air with icy spindrift howling about them, and a collapsing crevasse wall threatening death.
The Everest movie recreates the 1996 disaster in which eight climbers died, and others were stranded by an immense storm on the wind-blasted icy desert of the South Col, recounted in Jon Krakauer's book, Into Thin Air.
Everest director, and RVX co-owner, Baltasar Kormákur, decided he could film on location in Nepal, during the journey from Kathmandu up to the Tengboche monastery and on to Everest base camp, using the Italian Dolomites and Iceland for some sequences.
However, filming on Everest itself was impossible. Yet it is an instantly recognisable mountain and the film had to get its appearance right, to do justice to the tragic story and be respectful to the victims' families and the survivors. How to solve this problem?
Clearly special movie effects were needed and they had to blend seamlessly in to the real footage of the actors at work. Enter movie FX house RVX which built its own, digital, Everest as the basis for this.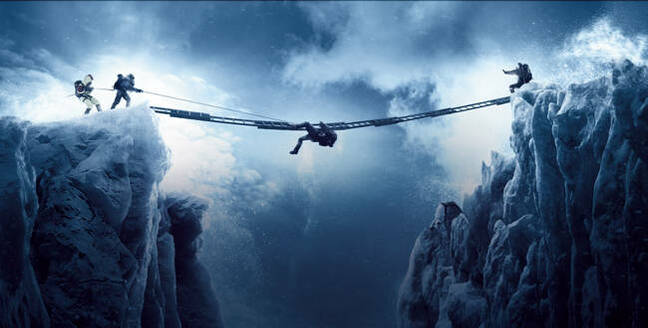 Everest crevasse ladder bridge
RVX
RVX was the lead special effects supplier to the Everest movie's production studio, managing a web of other companies, such as Framestore, ILP, Union VFX, One Of Us and Milk VFX, all bringing their special expertise to the overall effort. This was RVX's third collaboration with Kormákur.
How this recreation was done involves Infortrend and Supermicro storage located in a data centre near Keflavik airport, almost 40 miles from the 40-plus digital artists in RVX's offices in Reykjavik, and latency-killing Avere kit providing instant response to the FX artists' workstations.
UK-based international movie digital effects house Framestore opened a New York satellite office in 2004, followed by one in Reykjavik in 2008. That was closed and re-opened as RVX in 2013, with many Framestore staff involved.
Kormákur and Dadi Einarsson (now creative director) bought out Framestore in 2012 and set up RVX, opening it in 2013. Rui Gomes was appointed RVX chief technology officer (CTO) then, previously being Framestore Iceland's IT manager. His responsibilities included designing and implementing the IT infrastructure and pipeline.
Framestore, its Iceland office and subsequently RVX have worked on many recent classics in the movie and TV special effects area, such as Gravity, 2 Guns, Contraband, Boardwalk Empire, and, of course, Everest.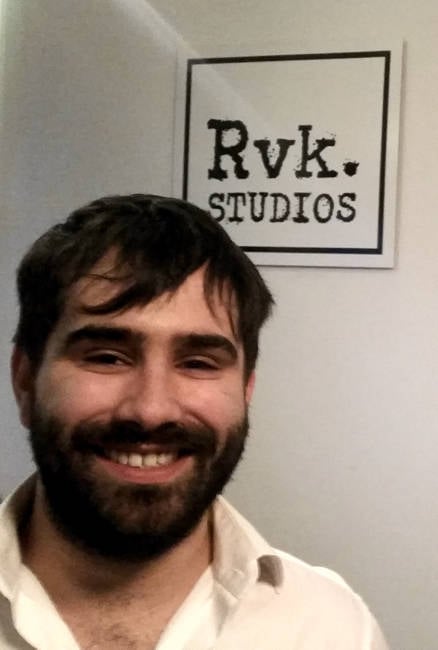 RVX CTO Rui Gomes
Gomes has a two-rack server, storage and networking facility in this office, but most of the servers and 500TB of storage are located in data halls in a Verne data centre 37 miles (60km) away, near Kelflavik international airport, using ex-US/NATO military base land.
Here there is space, security, communications, and inexpensive, green and reliable electricity supplies.
This data centre is protected by Tier 3 layered-site security and a gaseous fire-suppression system. The move to the data centre was necessary for space reasons – there simply wasn't enough in RVX's office to house all the server and storage resources needed.
That 37-mile distance is bridged by a layer 2 10GbitE leased line, with concomitant latency issues, which Gomes has had to solve in order for the 40 or so digital artists involved in creating the Everest movie's special effects could achieve their deadlines.
Creating a digital Everest
RVX had the problem of how to create believable backdrops to the climbers' (actors) movie activities as they moved from Everest base camp, up the ice-fall, along the Western Cwm, then up the Lhotse face to the Geneva spur and South Col, climbing up to Everest's south summit, crossing the Hilary Step and finally attaining the summit. Then, of course, they had to descend the same way in reverse.
Cameras filmed the actors on location or in a stage set at Pinewood studios where they performed their roles against a green background.
Essentially the green background to each frame of the movie would be replaced by photographic plates, digital matte paintings or computer-generated graphic (CG) environments created by RVX's digital artists and those of RVX's subcontractors.
The Dolomite backgrounds would be similarly replaced by plates, matte backgrounds or CG environments. There was also the need for sequences flying to, from and across the mountain's ridges, as if taken from a helicopter.
RVX decided to create its own digitally accurate 3D Everest, using terrain mapping, and then adding layers of digital virtual reality – the rocks, the ice, the snowy cornices, spindrift and storm turbulence, the foreground and background lighting, etc. This last item was crucial to avoid problems with the white, snowy terrain where any discrepancies would be immediately obvious.
The film's virtual reality was based on an accurate rendition of the mountain's physical reality, and that pre-empted the possibility of errors in the mountain's features appearing later in the movie's development. For example, when climbers are ascending the final ridge to the summit, the background of the Hilary Step, the South Summit, The South Col and the Lhotse had to be absolutely right.
RVX also used high-resolution photographs, such as ones showing discarded oxygen cylinders on the South Col, to get features absolutely spot on. The movie producers included climber and cinematographer Dave Breashers, who has climbed Everest, and he helped with 35mm photographic stock.
Digital doubles of actors, with texture-mapped clothing, were used when necessary. LIDAR scans were also taken of the actors and stage sets to help meld them in with the CG imagery and get scale, distances, and locations precisely right.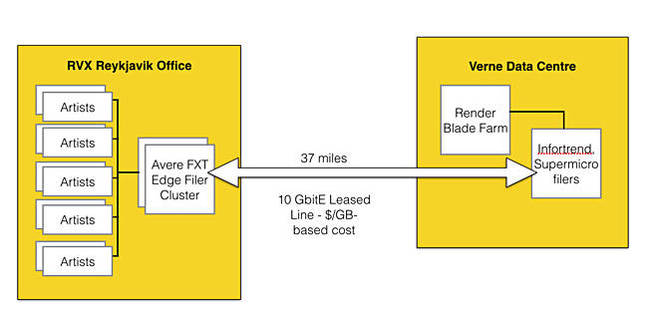 Overview of RVX IT infrastructure