This article is more than 1 year old
Oh em gee – Adobe kills Flash Professional (it's called Animate now)
Is Steve Jobs's advice finally being heard?
Adobe has released updates to its Creative Cloud application suite, including Photoshop, Illustrator, InDesign and Premiere Pro.
Crucially, it has announced a change of direction for its Flash Professional design tool, which will be called Adobe Animate in the next version, due in early 2016.
Ten years ago, Adobe's Flash plug-in looked set to dominate the internet as the runtime for animation and multimedia streaming, as well as being a significant application platform. The company moved ahead with plans to make it a cross-platform runtime for desktop and mobile as well as web applications, with Adobe AIR (Integrated Runtime).
Those plans fell apart when Apple declared its opposition to Flash, which Steve Jobs said was designed for the PC era: "The mobile era is about low power devices, touch interfaces and open web standards – all areas where Flash falls short ... perhaps Adobe should focus more on creating great HTML5 tools for the future."
The company took his advice. "Over the past few years, the Flash Professional CC product team has embraced [open web standards] by rewriting the tool from the ground up, adding native support for HTML5 Canvas and WebGL as well as output to any format (such as SVG) with an extensible architecture," said the press release.
According to Adobe, over one third of content produced with Flash Professional is HTML5-based.
Despite the name change, Adobe Animate CC will still support Flash and AIR, but the focus will be on improving its HTML5 capabilities.
Adobe has also released a preview of Fuse CC, a 3D design tool which integrates with Photoshop.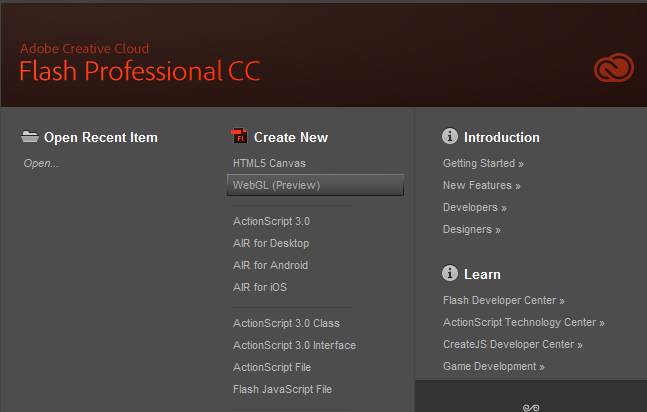 The Flash Professional templates include HTML and WebGL
Updates in the other applications includes a new Shaper tool for Illustrator, online document preview in InDesign, some audio magic in Audition that lets you stretch or compress the length of a piece of music without wrecking it, and a new Design Space user interface in preview for Photoshop.
Want to try Design Space? You might need to upgrade your operating system. "Older operating systems, such as Windows 7 and earlier and Mac OS X 10.9 and earlier, have many severe bugs that prevent Design Space from working correctly," said Adobe's FAQ. ®