This article is more than 1 year old
Commvault's Bob Hammer has his head in the clouds. Actually, that's a good thing
But can he turn flounderer around? Chris Mellor weighs in
Analysis Big changes, and a return to a financially positive state of affairs, are being promised by Commvault's Bob Hammer, a man who has led, chaired, and presided over events since 1998, with cloud storage developments prompting a new way of thinking.
Until 2003, Hammer was not full time in any of those roles stated above, being a venture partner at Credit Suisse's venture capital arm, the Sprout Group, from 1997 to 2003.
"Two-and-a-half years ago the cloud started to move," said Hammer. "We got hit by Veeam and others. They found space in the market and established themselves there. Kudos to Ratmir Timashev. We also moved away from Dell."
Back in 2012 Dell bought Quest after buying AppAssure and had no need for third-party backup suppliers.
Customers began buying data protection appliances instead of relying on an all-encompassing data protection suite such as Simpana. Copy data management startups such as Actifio began growing, as did virtual SANs and hyperconverged systems, such as Nutanix and SimpliVity, emphasising the need for a VM-led management focus, ditto new-style hybrid arrays and all-flash arrays.
Object storage became more popular, with its own data protection arrangements inherent in the fundamental object storage scheme.
Originally Commvault was formed in 1988 as a development group in Bell Labs, later being turned into an AT&T business group. The unit became a corporation in 1996. When AT&T spun out part of its business to Lucent Technologies the Commvault business was included. At that time its software gave users automated backup and restore, hierarchical storage management, online and near-line archiving, and disaster recovery functionality.
Lucent then sold it off in a management buyout in July 1996. Scotty R Neal was then the CEO. Bob Hammer took over the CEO reins in 1998 after telling the board how he would update Commvault's software and make the business a success.
Before running Commvault and venturing with Credit Suisse, Hammer had had several other CEO roles:
Chairman, president and CEO of Norand Corporation, a portable computer systems manufacturer, from 1988 until its acquisition by Western Atlas in 1997
Chairman, president and CEO of publicly-held Telequest Corporation from 1987 until 1988
Chairman, president and CEO of of privately-held Material Progress Corporation from 1982 until 1987
15 years in various sales, marketing and management positions with Celanese Corporation, rising to the level of veep and GM of its structural composites materials business. If this was Star Wars we could quite easily call him CP4CEO.
Why did he go out to Silicon Valley in the first place? "I wanted to run my own company and get the rewards from that, and the equity. So I went out to the valley and ran Material Progress Corporation."
When he ran Norand there was a storage element to its portable computer products and data had to be protected, so he didn't arrive at Commvault as a storage neophyte.
The Commvault train stopped moving forward
His time at Commvault has been marked by impressively growing revenues ... which suddenly stopped growing in its fiscal 2015 year: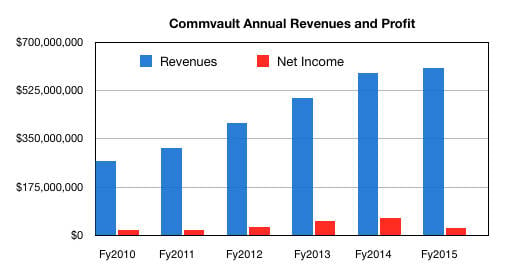 Actually, Commvault revenues have declined and it made a loss when looked at on a quarterly basis, with a chart showing the almost stately move from revenue growth to decline, and from profits to loss-making. The trend lines are that smooth: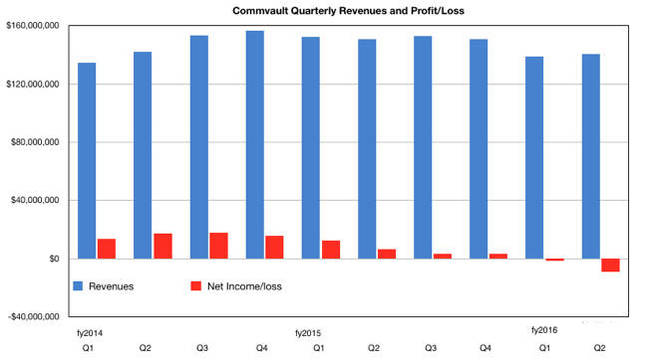 So why did the wheels come off? In one view it is practically a one-trick product pony, albeit a pony with many accomplishments, with its Simpana backup, archiving and data management suite sold to mid-to-large enterprises, and coming to great prominence in the era of servers and external arrays and deduplicated backup to disk.
As server virtualisation took hold, with virtual machines (VMs) and their management moving to the forefront of data protection needs ... so Commvault began slipping behind.
The public and private cloud grew, and, we could argue, multiple separate data silos sprang up outside the reach of Commvault's data protection and management umbrella, hence storm clouds gathered and the hard rain began to fall.
Commvault's all-inclusive Simpana approach began losing ground against these multiple assaults, and it also suffered from a self-inflicted wound: its sales organisation fouled up. So here, in what many will regard as the twilight years of Bob Hammer's stewardship, Commvault finds itself in a turnaround struggle. How are he and his team dealing with the problem?