Comment Rozo Systems is a scale-out NAS startup using Mojette transform erasure coding with its RozoFS software, and claims its software provides high performance at a fraction of the cost of competing systems.
There is no adoption cost from the point of view of applications using its software-defined product. It enables, Rozo says, converged infrastructure on standard servers with no vendor lock-in. The product is erasure code-based with a protection level of 5 copies with only 1.5 redundancy.
CEO Pierre Evenou says Rozo's code has the cost-efficiency of object storage with the performance of scale-out NAS. It claims erasure coding is generally slow but its implementation enhances performance.
The R&D team is staying in Nantes, although the CEO and COO are based in Silicon Valley. The headcount is 10, equal to the number of paying customers. There are more than 10 deployments, with two movie studios benchmarking the SW, one thought to be Pixar. Rozo has raised EUR700,000 seed funding and is looking to have an A-round soon, from French and US investors.
Evenou says Rozo's erasure coding is ten times faster than Scality's. Newly hired COO, Michel Courtoy, says classic erasure coding is based on Reed Solomon and needs multiplication on top of Mojette's simpler addition and subtraction, so it takes a longer time.
"In our world we do not think Isilon is fast," said Courtoy. "With big sequential files they're okay." But Isilon is slower with small files. "We find Isilon customers who want more performance and we find NetApp customers who want more scalability," he added.
Rozo's sweet spot is for capacities larger than Isilon and Qumulo can provide, up into the object storage area, but with fast performance. Courtoy says Rozo is complementary to Qumulo: "We have a better-performing file system. It has better analytics."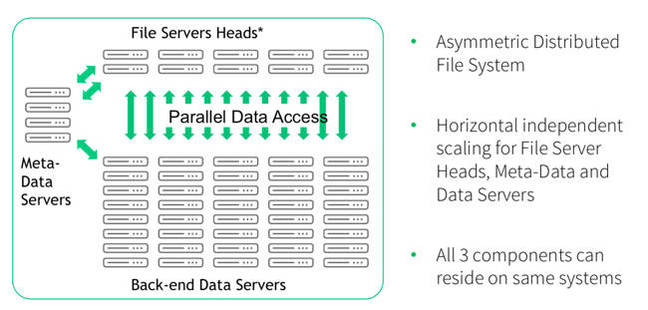 RozoFS diagram
Rozo's business advisor Philippe Nicolas says: "Scalability favours object storage except when you consider RozoFS as the product really scales. By design, object storage solutions are built to store massive amount of files and huge amount of PBs. On the scale-out NAS side, [an] Isilon cluster is limited to a few dozens of PBs but the majority of its deployments and use cases fit perfectly in that range. Qumulo is also good at scale. However, RozoFS breaks these limits and supports 1,023 file systems, 255 volumes, 259 files per file system and 16 Exabyte file system with 6TB drives."
A quoted use case is Cloud DVR which can enable suppliers to get rid of customers' TV set-top boxes and replace them with storage in the cloud, which is more efficient. However, it has no control over the net video streaming. What Rozo does have is a better SW-driven box for pumping video data into the pipes.
Rozo is working with customers in the genomics area and other analytics-based use cases.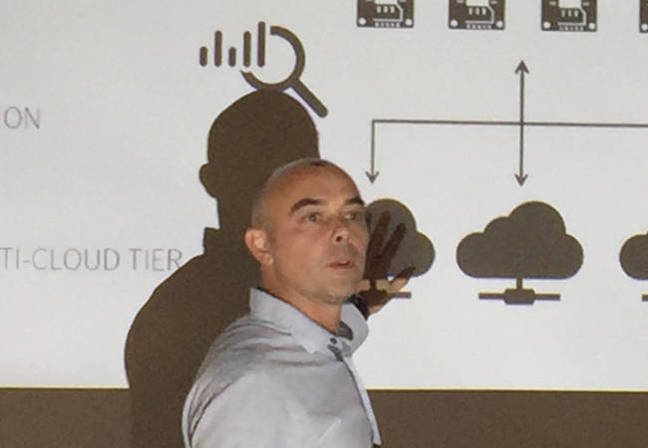 Rozo CEO Pierre Evenou
The v2.0 product will have 128-bit erasure coding, 64-bit is used presently. It is multi-disk and a file can now span disks whereas before it could not. Users and groups can have quotas. There is a direct-access mode, an object-access mode in the file system. Each file can be accessed directly, without using the metadata server. Data integrity features are being added as is geo-replication.
The roadmap includes adding snapshot technology:
v2.1 Jun 2016 – Fast indexing, versioning, metadata re-use on file deletion*
v2.2 Dec 2016 – Per-directory snapshots (possibly), storage QoS (possible throttling)
V2.3 Jun 2017 – Fast disk encryption, SSD caching
Rozo is also going to build some of its own analytics. It's also looking at having a high-availability full flash tier combined with fast indexation and a secured multi-cloud tier. Data would be stored across several clouds and regions, with no one cloud having the full data, only, Evenou says, a "meaningless portion of the data".
Rozo thinks it has a better scale-out NAS mousetrap, with a unique combination of object storage scale and scale-out NAS performance, with a particular advantage in the small-file area.
Comment
Rozo has been working on its technology for ten years or so. Yes, indeed, it is a better erasure-coding mousetrap and, yes, again indeed, it can scale up to object storage levels yet be as fast, if not faster, than scale-out NAS, but ...
The scale-out NAS suppliers, such as Isilon and Qumulo, are better funded and have larger development bandwidth. Their products are more mature than Rozo's. At the other end of the capacity scale, the object suppliers are also better-funded and looking to use Kinetic drives and SSD caching to speed their operations.
The use of Avere as a filer front-end with its support for cloud storage means that scale-out filer scalability problems are lessened.
Rozo has to hope that it can translate its theoretical scalability/performance advantage into real-world customer wins by customers really needing object scale and NAS performance. It's possibly going to have to ramp to its engineering bandwidth considerably to do this.
Of course, its technology might look so good to competitors that it becomes an acquisition target.
The code is available from GitHub in non-optimised (lower performance) form, or direct from Rozo in an advanced edition with optimised erasure coding. ®
* Metadata is treated as a quasi-template and re-used in that sense.