This article is more than 1 year old
Clean-cut code-warriors behind Cohesity's hyper-converged tech
Hey secondary storage vendors – you're toast
Comment Startups are always someone's enemy; that's the nature of being disruptive. The disrupted status quo hates you. Rarely though does a small biz face more enemies than Cohesity. Every supplier selling secondary storage hardware, software, or applications faces being killed or grievously wounded by Cohesity. Mohit Aron's startup is basically hated and feared by everybody outside the pure primary storage space, or should be.
The idea is to have hyper-converged secondary storage; a clustered hardware and software platform, to store all secondary data and provide data services for it. This is a single-silo approach covering backup, analytics, test and dev, archive, and any other secondary storage use case.
It is a cooly elegant approach that excites large enterprises suffering from dreadfully costly silo-sprawl, with multiple diverse applications, arrays, user interfaces, and data movements, which could all be excised at a stroke by Cohesity's product.
Of course Aron's people say its repository could work with best-of-breed apps, it not being in the business of telling customers what to do, but, hey, listen enterprise, doesn't it make sense to concentrate your secondary data in one repository and save millions of dollars?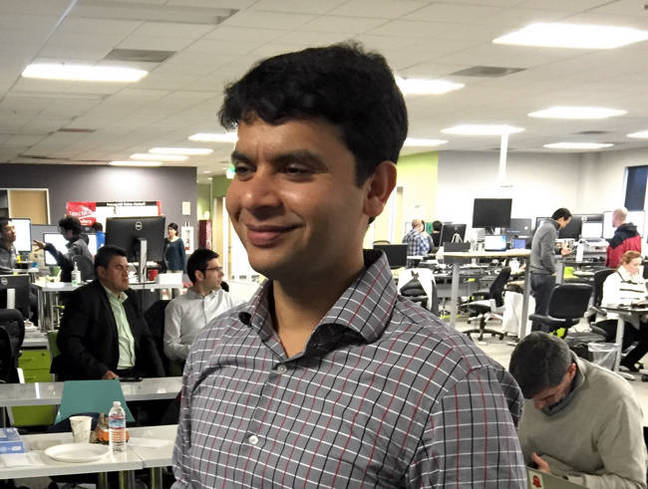 Cohesity CEO, founder, and revolutionary Mohit Aron
Of course it does, and enterprises frustrated by savagely spiraling secondary storage costs rather like it. So Aron's team of 50 people is beavering away to put thousands of people out of work and ruin the business model of dozens if not hundreds of other storage businesses.
Think about this from the point of view of a pure primary storage or server-only vendor. They see goodness and no conflict; a potential partner to help disrupt the incumbents. So certifications with all-flash array vendors like Pure and server vendors like Cisco are proceeding apace.
Santa Clara-based Cohesity says it's working with other players too, such as Dell. No doubt it is, as business units inside these vendors, ones with secondary storage interests, see benefit there for point situations, even though, strategically, Cohesity is the last firm they should partner with.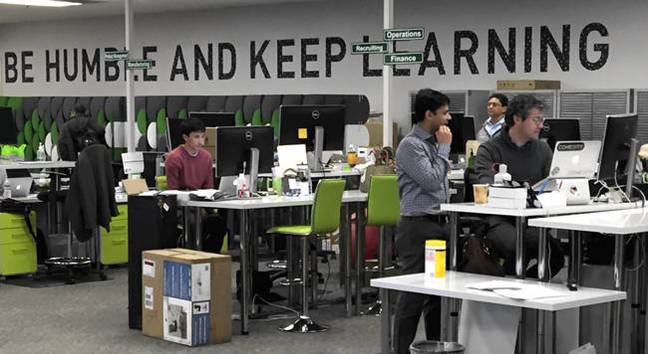 Cohesity code-warriors coding, learning, and fomenting revolution from stand-up workstations
So Commvault can use Cohesity's clustered array as a target while Cohesity's general message is to replace point backup/archive software and hardware products with its own clustered appliance hardware and software; meaning kill Commvault.
Ditto Dell; its hardware can run Cohesity software while Cohesity aims to replace all Dell's secondary storage products; meaning drastically reduce Storage Center, EqualLogic, and the data protection hardware and software. And, soon enough, EMC's secondary storage business including Data Domain. The Cohesity message is simple; you don't need any of this stuff.
The strategic threat represented by Cohesity to suppliers like these is immense. It's a direct invasion of their turf.
No company supplying secondary-storage-based products will support Cohesity messaging when talking to customers and influencers such as analysts. In fact they'll say the exact opposite and cast doubt on the idea of having a single, use-for-all-use-cases, secondary storage resource.
Cohesity says it doesn't see any competitors, which is true in a pure function and vision sense, but completely untrue in reality, as it's competing with all incumbents and start-ups in the secondary storage space. The startups include Actifio, Catalogic, and Delphix with their copy data reduction products. Then there's Formation Data Systems, Hedvig, Primary Data with its virtual silo-busting DataSphere abstraction layer product, and Rubrik; all secondary storage silo sprawl-busters.
In the face of this enormous latent antipathy from incumbents and startups, Cohesity will need clear and focussed go-to-market messaging and selling channels to overcome the obstructions that its competitors will strew in its path.
Softly spoken Mohit Aron and his team of code-warriors and execs believe they are up to this task – the wind is in their sales and they're hot – so hot, because Aron has Nutanix and Google File System success behind him, plus $70 million funding since being founded in 2013. Fired by the burning heat and clean purity of Aron's vision, his code-warriors foment revolution.
Beware everyone else with secondary storage interests. The enemy they face is a Silicon Valley code warrior invasion force; VC-funded disruptors wanting to burn their ass. ®