Tad Hunt, the chief technology officer and co-founder of startup Exablox, which makes OneBlox, a clustered SMB storage array presenting a NAS interface on top of an object storage foundation, has left the company.
Exablox received a $7m investment in May from Toshiba America Electronic Components which took total funding to $45.5m.
Hunt, business development veep Matthew Catino, and chief architect Frank Barrus founded Exablox in 2010.
Exablox CEO Doug Brockett said: "Tad's innovation and passion have been a critical part of Exablox's founding vision which the company is expanding and accelerating with both our recently released products and our roadmap for the coming years."
In October, Exablox was at the Tokyo OpenStack summit to demonstrate its scale-out object-based NAS software running on a Dell PowerEdge R220 server, and accessing Toshiba's KVDrives through Kinetic API access, an object-based Ethernet interface to key:value store drives.
It said this system has compression, deduplication, continuous data protection and remote replication. Its performance is "similar to traditional HDD-based primary storage".
Exablox also joined the non-profit Linux Foundation in October. The Foundation is involved in the collaborative Kinetic Open Storage Project to provide standardised access to Seagate, Western Digital and Toshiba Kinetic-style disk drives.
At the time, Hunt was quoted as saying that we "joined The Linux Foundation to collaborate with other industry leaders to broaden innovation in the Linux ecosystem, around new open storage architectures".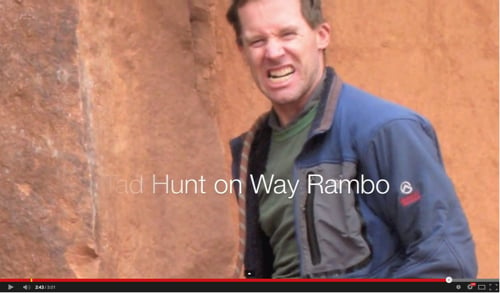 Tad Hunt is a climber. Click image to roll the YouTube video
The company made its software available on its own, decoupled from its hardware, in Dell World at Austin in October, running on a PowerEdge R730xd server system. The inline compression feature was added in September.
Hunt's departure will raise questions about Exablox' technical direction and strategy and also about what he will be involved in next. ®