This article is more than 1 year old
Off-key Violin Memory stuck on a bridge over troubled waters
Terrible puns not as terrible as storage biz's latest quarter
Disaster! Violin Memory completely failed to report recovery-level third-quarter revenues. In fact things went from bad to worse at the Santa Clara storage biz.
Sales in its third-quarter of fiscal 2016, ending October, amounted to $12.5m, 18 per cent lower sequentially and 42 per cent lower compared to the year-ago quarter's $21.7m.
And losses? The net loss was $22.7m; an improvement of 5.4 per cent on the second quarter and an inconsequential 3.7 per cent on the year-ago quarter.
The conclusion is plain enough: despite improving the product markedly, the customer take-up has been insufficient, and Violin's sales force and channel has not been up to the task. Appointing Said Ouissal to head the sales wing in June, has not, so far, proved to be a good thing. Or, alternately, the damage done by the previous incumbent was too far-reaching to allow short-term improvement.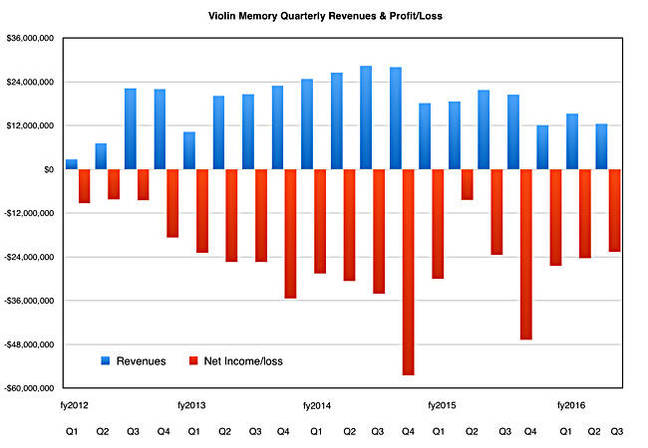 Violin Memory's quarterly results
What did CEO Kevin DeNuccio have to say? The canned quote went like this: "Our strategic shift and product line transition to become a market leader in flash-based primary storage for enterprises continues to create short-term challenges in achieving predictable, consistent growth." Or any growth, Kevin.
He added this: "However, we believe we are headed in the right direction overall and that our opportunity continues to be extremely attractive." Hmm, is that the sound of a man with a company to sell?
You might well think so, as Violin's board has authorized the exploration of strategic alternatives to enhance shareholder value, and has retained the services of an investment banking firm to assist with the evaluation process. There's no timetable for this; but cash is being burned, and something will have to be on the table within the next three months, we think.
Here's a second canned DeNuccio quote: "Our stock price remains at a level that we do not believe reflects the true value of our business and developed technology. As a management team, we are committed to act in the best interests of our shareholders, including considering alternate methods of enhancing shareholder value."
Donald Listwin has been elected to Violin's board of directors, effective December 1, 2015. He's currently the CEO of the Canary Foundation, a non-profit focused on the early detection of cancer. More pertinent is that he was previously CEO of Sana Security and of Openwave Systems. He was also an EVP at Cisco Systems from June 1997 to September 2000.
A Listwin canned quote said: "Due to the company's technology leadership, patents, and history of innovation in flash storage, I have decided to personally invest both time and money to ensure its success in capitalizing on this opportunity." You might think he likes investing in sinking ships, but you have to think he saw the numbers and went right ahead, believing that an upside is achievable.
Prediction time – Violin will be acquired within six months and for less than the IPO stock price of $7.51, much less. Its share price dropped to $1.20 immediately after the earnings report. ®