This article is more than 1 year old
Scality puts RING on one of HPE Apollo's fingers
With this RING we can get in bed
HPE has publicised a deal with Scality for the latter's RING object storage software to power its Apollo 4510 Big Data system.
It was discussed at the HPE Discover event in London, with Scality providing petabyte-scale file and object storage for one of the Apollo boxes. HPE storage head Manish Goel and Scality CEO Jerome Lecat presented on this topic.
There are four Apollo systems:
Apollo 2000 scale-out systems with 4 servers in a 2U chassis and 24 drive slots, suited for HPC clusters
Apollo 4000 Big Data systems

4200 2U rack server
4500 4U 3-server system
4510 object storage system
4530 Big Data and Hadoop analytics system

Apollo 6000 rack-scale HPC system
Apollo 8000 liquid-cooled HPC system
In 2013 HP had an internal object storage product development which appears to have fizzled out.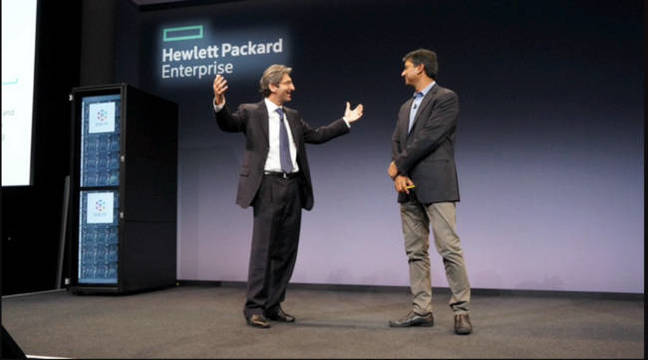 Scality's Jerome Lecat (left) and HPE's Manish Goel at HPE Discover London
Now we have HPE Apollo 4000 systems, specifically the 4510 object storage system, being sported at HPE Discover.
The HP Apollo 4510 System is ideal for a wide variety of object storage solutions including collaboration and content distribution, content repositories and active archives, back-up repositories and cold storage – and everything in between. You can take advantage of object storage solutions supported by the HP Hyperscale Data Ecosystem partners, such as Cleversafe, Scality, Ceph, and OpenStack/Swift, as well as HP's own Helion Content Depot.
(This documentation pre-dates the HP-HPE split and so refers to HP Apollo systems.)
Now that IBM is buying Cleversafe, that particular object storage software option might quietly disappear.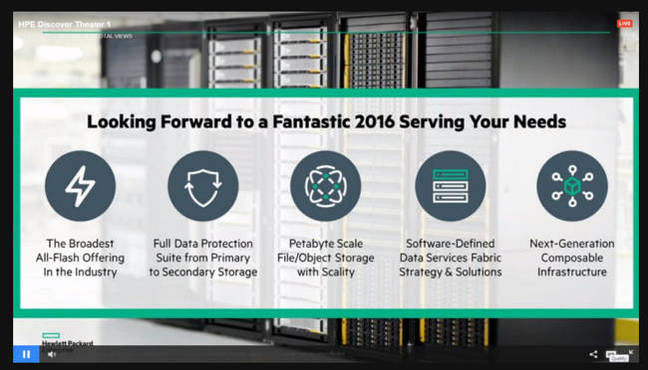 Scality scores with the middle bullet
The 4510 is "A 4U, one-server system that has been purpose-built for object storage solutions with up to 68 hot-plug SAS or SATA HDDs/SSDs with up to 544 terabytes storage capacity per server and up to 5.44 petabytes of storage per 42U rack" with 10 HP Apollo 4510 Systems and 680 LFF HDDs.
The HPE Apollo 4510 and other Apollo systems were announced back in May. Storagebod, for one, wasn't impressed with this latest HPE-Scality deal. ®