This article is more than 1 year old
The HPE-Scality hookup is a full-on reselling deal
And it's making the object storage folk rather happy
The arrangement between object storage startup Scality and HPE, announced at HPE's Discover conference in London last week, is a reselling deal.
Jerome Lecat, Scality's CEO, told The Register: "The HPE news is a big one, and I think it may have been underestimated by some journalists. Scality signed a distribution agreement with HP Server BU a year ago [through which the] HP Server business unit sells Scality software worldwide."
That was then, when David Sciott ran HP's separate storage business and it had its own StoreAll/8800 object storage push. Now storage and servers are more in sync at HP.
The StoreAll 8800 storage node still exists but HPE storage has signed a reseller deal with Scality. A source told us:
The announcement made by HPE at Discover last week is that HP Storage BU is now putting Scality as the Object Storage element of their portfolio. That means that, not only Server sales at HPE, but also Storage sales people at HPE will be reselling Scality worldwide, that's a lot of sales people!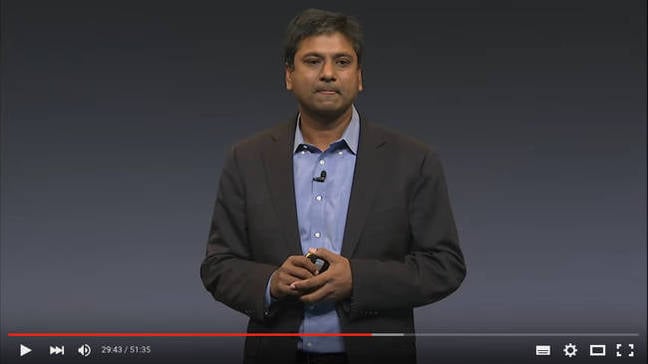 HPE Storage head Manish Goel talking about Scality deal at the 29 minute 43 second point in his HPE Discover presentation. Click the image to roll the vid.
More feet on the street should move more Scality product.
There has been a promotion inside Scality with COO Erwan Menard scooping a president's job title as well.
Lecat said: "Erwan is an outstanding COO, and as our company is growing, and as I need to spend more and more time with investors, I asked him to take over engineering in addition to sales. Indeed, we changed his title from COO to president and COO, as we made the change."
If HPE sells substantially more Scality product then the startup's revenues could rise to the point where an IPO, or an acquisition, could become likely. ®