This article is more than 1 year old
Tiering up: Our man struggles to make sense of the storage landscape
Data Retention for Dummies
Comment All is confusion. The old certainties are gone. New certainties just don't exist. The shifting shapes, players, products and technologies in the storage landscape are seen through fog. How the heck does everything fit together?
After four days in Silicon Valley meeting startups the bewilderment ratio is even higher. It's like Dragons' Den, where each new player is shinier and brighter than the previous one, becomes your favourite but then, as sure as eggs are eggs, will be eclipsed by the next one.
It's time to step back, return to basics, de-clutter and try to simplify things.
So, once upon a time, in a data centre far away, there were external on-premises storage arrays, either SANs or filers, which had their contents backed up to external arrays by various backup SW suppliers.
The external arrays were monolithic big iron, dual-controller mainstream SANs or scale-out filers. The public cloud was a distant prospect and startups were trying to make better SAN or filer mousetraps.
Now things are different. But we can force fit players into three basic groups.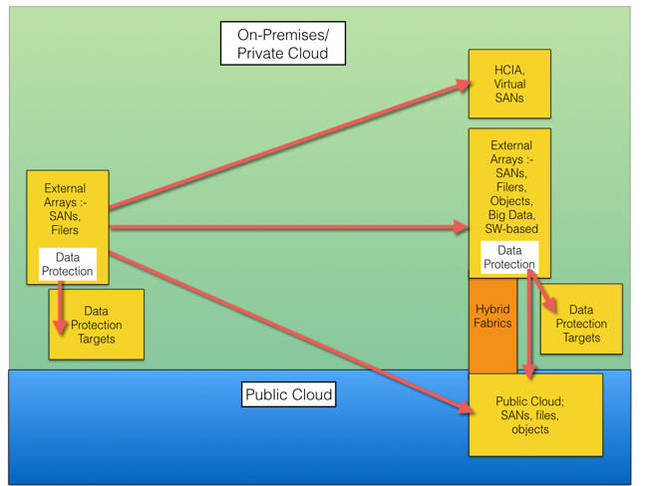 The new storage landscape
First, there is public cloud storage – Amazon, Azure, Google, Rackspace, et al offer file or SAN or object storage in the cloud, in a data centre set owned by somebody else. Some external data centre array stored data is moving to this.
Then there are two main flavours of on-premises storage, with the first being the no-SAN SANs, the virtual SANS made by aggregating server's direct-attached storage into a logical SAN. This is VMware VSAN and HCIA (Hyper Converged Infrastructure Appliance) territory. It is on-premises and scale-out.
Our second on-premises storage area contains the good old external arrays, only now they are re-invented, with SANs and filers now using all-flash and hybrid flash/disk designs.
The old incumbents (Dell, EMC, HDS, HP, IBM, NetApp, and Sun) have been enlarged by acquisition (3PAR, Compellent, EquaLogic, Isilon, etc). But the external, shared, on-premises array area has had new technologies grafted onto the SAN and file base:
Object storage
Big Data storage
SW-based arrays
HPC-style storage
There are a new generation of startups in the all-flash array (Kaminario, Pure Storage, Solidfire, Violin Memory) and hybrid array (Nimble Storage, Tegile, Tintri) with these becoming all-flash array suppliers too.
These shared, on-premises, external arrays are often called private clouds and there are moves to have them manage, access and integrate with public clouds in the hybrid cloud concept.
And we still have these arrays backed up to different on-premises data protection storage although the public cloud has become a backup target as well.
All OK? So will we return to the glory days of just seven or eight mainstream on-premises array suppliers? Mmmm, I think not.
Why? Because the traditional incumbent suppliers' revenues are shrinking while the startups are entering an IPO phase and growing quickly.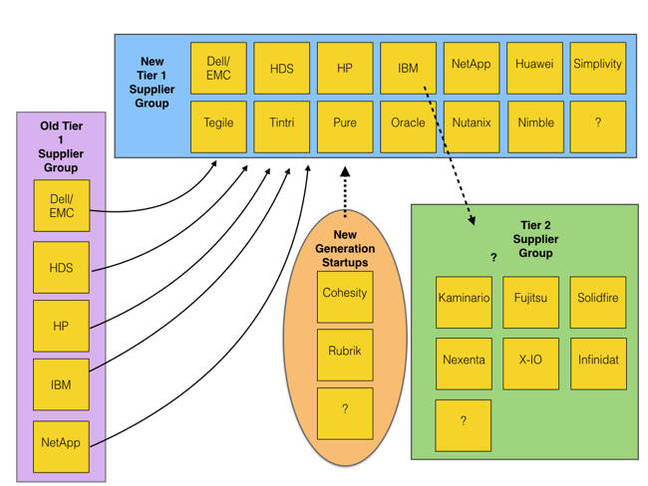 Storage supplier tiers