This article is more than 1 year old
Huawei: Hey, storage bigshots – we're coming for your top 3 spot
Huawei? Your worst nightmare, pal
China is coming to shake up our cosy storage world, with Huawei hoping for a top three supplier spot by 2018.
Fan Ruiqi, Huawei's storage products president, told Reuters: "We don't want to just be number one in China ... We want to be at least the top three in the world by 2018" in the storage business. That means acquiring revenues of at least $2bn.
The global storage market amounted to $5.3bn in the second quarter of 2015, said Gartner recently, of which Huawei's share was 3.3 per cent ($174.9m), with EMC having 32 per cent, IBM 11.7 per cent and NetApp 10.6 per cent. So, there's a long way to go for Huawei.
Its progress through the Gartner storage magic quadrant has been spectacular and steady, as a (admittedly rather shonky) photo of a display at its Chengdu Storage research centre shows: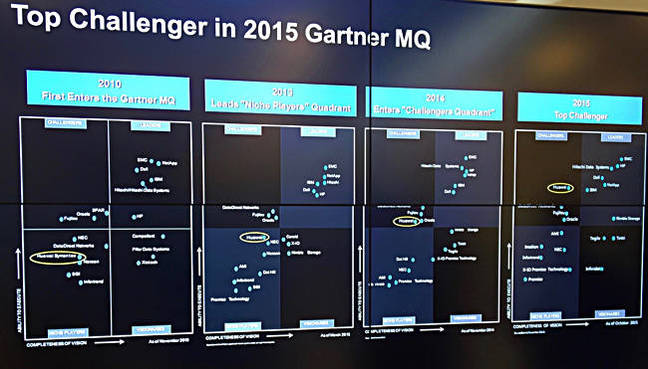 Huawei (circled) progress through Gartner storage MQ 2010 to 2015
Huawei's Gartner-accredited growth rate in the second quarter of this year was outstanding, as another (less shonky) Chengdu display shows: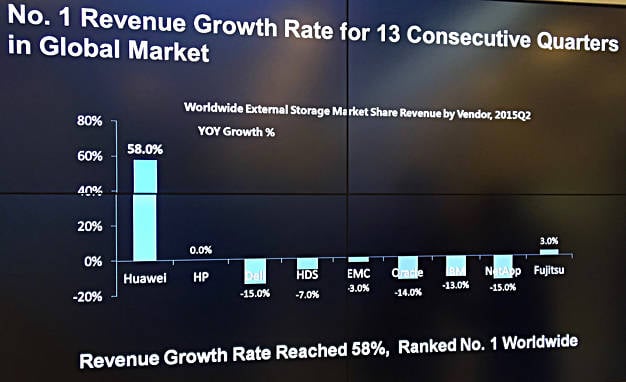 Top-growth storage vendor in second 2015 quarter with 58 per cent
Huawei intends to go after financial institutions, governments and telecoms carriers as storage customers, and Ruiqi said this is expected to yield at least 60 per cent year-on-year growth this year, from 55.6 per cent growth in 2014.
He also said growth in western Europe was strong, citing Italy and Spain.
With IBM's storage sales falling, as are NetApp's, and EMC's flattening out, Huawei, if it can maintain 50-plus per cent year-on-year quarterly growth rates, could get its top three spot. We might then see Dell (with EMC), HP and Huawei as the world's top three storage suppliers. ®