This article is more than 1 year old
Microsoft Lumia 950 and 950XL: Clear thoughts of Continuum with a snazzy camera
Sadly, these are for the collectors and diehards only
Review There's only one reason you might want to buy either of the new flagship Microsoft Lumias. Straight off the bat, we can tell you it's not the party trick Continuum, where your phone doubles up as an ARM-based PC to run Microsoft Office.
Nor is that reason Windows 10 – which is still buggy, bereft of significant new benefits for the user, and without the performance and coherence of Windows Phone 8.1.
No, the reason you'd be drawn to the new Lumias is because they have the best camera I've used all year, and I write as someone jaded by the general excellence of today's smartphone cameras.
The 20MP shooter on the Lumia 950 and 950XL turned in the best results I've seen on mobile imaging, particularly in low light. And that's basically it.
However, marshaled against that we have a long list of drawbacks. The first is the cumbersome and glitchy experience of using Windows 10 Mobile, which while smoother than the Preview programme, is nowhere near as polished as the Windows Phone 8.1 it supersedes.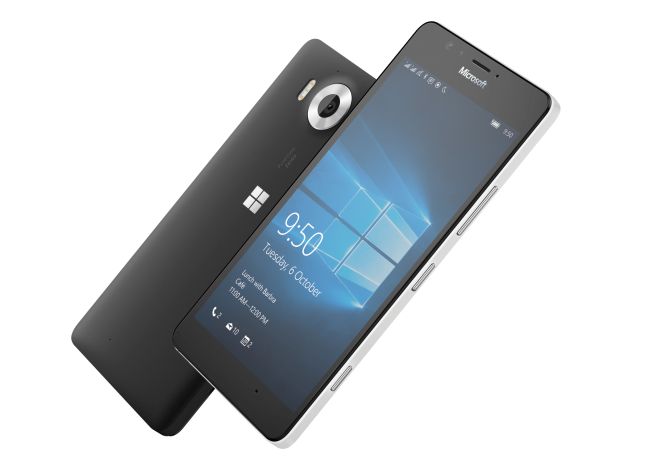 Windows 10 still feels months away from being mature. Admittedly there are one or two positives for the IT administrator, but few for the user, who finds simple things harder to do, and important things impossible to do (unified email inbox, Device hub).
The second is the poor range of apps. I'd expect that Windows 10 will mature, and the third-party app selection to improve significantly in the next year. But these are both devices costing over £400 (£449.99 and £529.99 (XL) at the Microsoft Store; £419.99 and £469.99 SIM free at Carphone Warehouse). That's a lot to ask of punters for what is basically an ongoing beta programme.
Because the two 950 models have so much in common we're dealing with both of them in this review.
Tweedledum and Tweedle XL
The 950 and XL (as we'll call them here) both have a no frills, utilitarian designs that are recognisably Lumias, resembling the 640 and 640 XL models, although the side button layout has inexplicably (and annoyingly) changed on the larger model.
Both make use of polycarbonate and have removable back covers. The XL is simply bigger (5.8-inch display) than the other (5.2-inch).
The former Nokia phone team at Microsoft hasn't skimped on anything here. Both models have a high resolution (1440 x 2560 pixel) AMOLED display, wireless charging, removable battery, expandable storage, HAAC rich audio recording, and the same stellar 20MP main imaging unit.
Both have a spooky new biometric face-scanning authentication option. Both have Gorilla Glass and despite differing battery sizes (3340 and 3000 mAh for the 950 XL and 950 respectively) Microsoft makes the same claim for battery life for each model. Presumably thats because the top-end octocore Snapdragon 810 in the XL model consumes more power than the very capable Snapdragon 808 in the regular 950. Both are chips that can warm the hand when being taxed.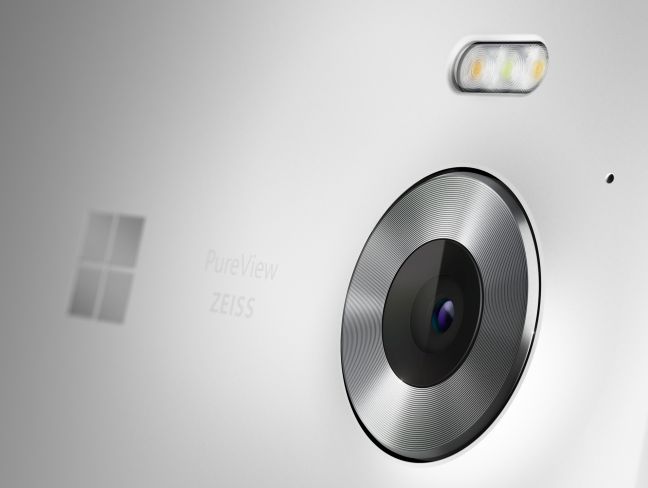 The XL differs by allowing four rows of regular square tiles on the home screen, and accommodates two wide tiles to live side-by-side. It makes for a much tidier home screen.
Microsoft has however ignored years of user feedback clamouring for the phones to show larger tiles in order to display more information; while Windows 8 and 10 for PCs get the 'Large' tile size, phones and ARM tablets don't. So the default calendar app – which here is "Outlook Calendar" – still shows one appointment per day, no matter what's in your schedule. There aren't really any other differences.
Both look "drab" (if you're being unkind) or "practical" (if you are being generous), and are certainly not models which jump out at you. If that kind of thing bothers you, for £40 you can pick up a funky leather cover.
Both Lumias do feel lighter than you'd think – picking one up reminds me of picking up an old phone with the battery taken out. That, by the way, is a compliment.
From the spec sheet Microsoft has done a good job of valuing popular Lumia features such as good quality radio stacks for phone calls, Qi wireless charging, and the much underrated HAAC audio recording subsystem. And while Microsoft laid off much of Nokia's phones division following its takeover, it didn't entirely ditch the imaging team.
It was 2013 since we last saw anything new from them, with the oversampling sensor and OIS combo coming into more affordable models. Two more years of development finally yields up some fruit.
Only occasionally does either the Lumia 950 or 950 XL feel like a Windows Phone, however.