Cloud storage gateway startup CTERA Networks now has an enterprise file services platform to protect server data across any cloud infrastructure, presented as part of a cloud server data protection offering.
This makes us think of EMC's Spanning and Datto's Backupify products, also part of in-cloud data protection engines.
The v5.0 EFSP product already protects central, remote and branch offices and has sync and share facilities.
Six months later it has backup agents for any cloud-based server, and CTERA said it "enables organisations to protect data in their virtual private clouds (VPC) while also leveraging the native object storage service of any cloud (Amazon Web Services, Microsoft Azure, IBM Cloud, OpenStack and more) to cost-effectively store backup data".
The product has native object storage connectors. It features multi-tenancy, with CTERA claiming it can protects thousands of tenants and tens of thousands of servers from a single console. Data is encrypted at source and is deduplicated and compressed.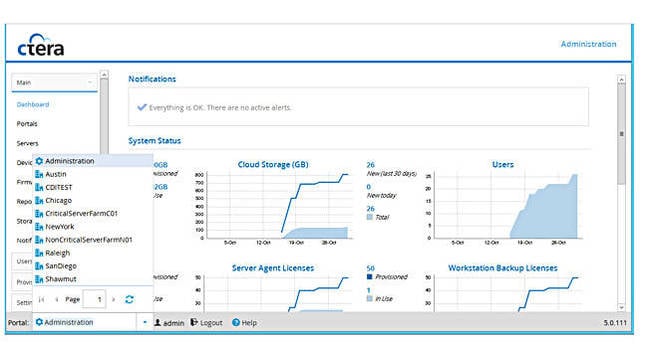 Multi-tenancy example screenshot
There are RESTfulAPIs so that EFSP use can be automated. The product has application-aware tools for app-consistent backup and granular, file-level recovery of Microsoft SQL Server, SharePoint, and other applications running in any cloud infrastructure.
CTERA claims customers can "pay as little as $0.01/GB/month for storage infrastructure, representing more than 80 per cent cost savings compared with traditional backup appliances".
But of course, restores might well cost you more than that. ®