This article is more than 1 year old
Facebook one-ups Google with open hardware release
Deep learning mindgrab war hots up
Four years after Facebook open sourced its data center hardware with the Open Compute Project, the company has done it again with a server built for deep learning neural networks.
Dubbed Big Sur, the reference design uses eight high-performance GPUs of up to 300 watts each to crunch data in an air-cooled rack that fits with existing OCP data center designs.
Maintenance is largely toolless, the motherboard can be snapped out in a minute, and a hard drive in seconds, but you'll still need a screwdriver for the CPU heat sinks.
"We want to make it a lot easier for AI researchers to share techniques and technologies. As with all hardware systems that are released into the open, it's our hope that others will be able to work with us to improve it," said the Facebook AI Research Team.
"We believe that this open collaboration helps foster innovation for future designs, putting us all one step closer to building complex AI systems that bring this kind of innovation to our users and, ultimately, help us build a more open and connected world."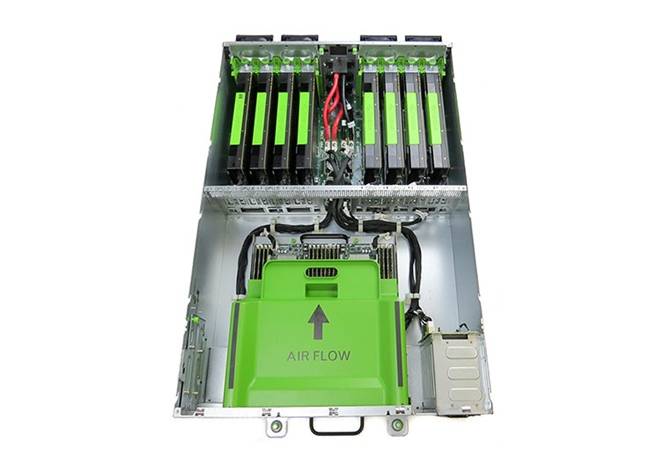 Single screwdriver required
Facebook has already opened up the software side of its deep learning systems and reports that this machine runs Torch twice as fast as earlier designs by scaling up to eight GPUs, enabling larger or faster neural network development.
The design uses Nvidia GPUs, which will help that company in its "all in" into processing. That said, the design is open to "a wide range of PCI-e cards."
It also claims that Big Sur is "far more versatile and efficient than the off-the-shelf solutions in our previous generation."
"Deep learning has started a new era in computing," said Ian Buck, veep of accelerated computing at Nvidia. "Enabled by big data and powerful GPUs, deep learning algorithms can solve problems never possible before. Huge industries from web services and retail to healthcare and cars will be revolutionized."
Your move Google
All of this will make uncomfortable reading for the AI boffins at Google. The company won plaudits last month when it open sourced its TensorFlow machine learning software to developers.
Google wants more AI brains. By opening up its code it is hoping to attract new talent: a game Facebook has played very successfully for years.
But Google wasn't as forthcoming on the hardware that's optimized to run on the code. While the company is investing heavily in expensive quantum systems, the AI work is still handled by run-of-the-mill hardware in data centers.
If your AI code is optimized for certain hardware then you have an advantage over those who are running on less-efficient systems. Facebook's move will give everyone the chance to get the best of both worlds and may draw a lot of developers to its AI camp. ®