This article is more than 1 year old
Name that HPE boozer: Last orders please
Final chance to dub private London drinking club
Our call for potential names for Hewlett Packard Enterprise's private London drinking club has prompted the expected rush to the bar from readers.
The paradigm-busting green rectangle formerly known as HP or Hewlett Packard or whatever will serve up booze and music to punters at its new City of London HQ at 1 Aldermanbury Square, as we reported last month.
Although only "employees, officers, guests and persons attending bona fide private functions" will benefit from IT party central, we generously decided to name the premises, thereby saving HPE money which could better be spent buying us foaming pints of ale and dry roasted peanuts as a heartfelt thankyou for our selfless creative efforts.
Or rather, for your selfless creative efforts. The submissions have so far proved entertaining, and we're calling last orders on suggestions, so get your two bits' worth in down in comments, or via email to me. The deadline is beer o'clock (5pm UK time) today.
Next week, we'll offer up our shortlist for the traditional public vote. Accordingly, we're not going to highlight today any possible titles which have already caught our eye, but rather offer a single choice observation from Yugguy:
Knowing HP, you will open a series of doors to a series of ever smaller rooms. In the final, smallest room there will be half a pint of lager shandy fully encased in styrofoam.
Yes indeed, expect the final poll to contain at least one reference to HP's involvement in "Aboxalypse Now" - the shocking saga of really small things packaged in really big boxes, such as this solitary DIMM nestled in a cardboard-bounded vastness: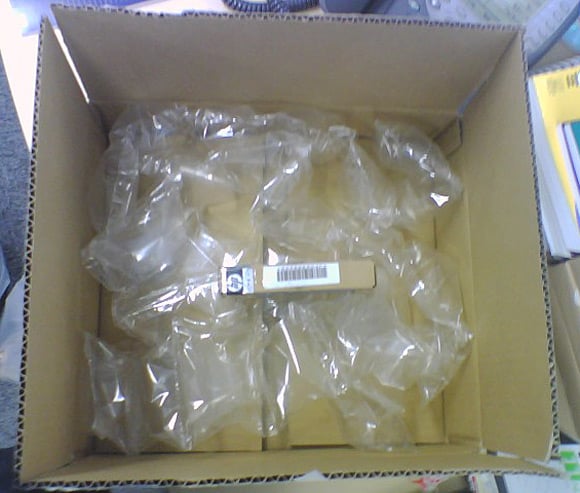 Unsurprisingly, after wading through thousands of tons of unnecessary packaging, we eventually felt obliged to present a Playmobil comment on the matter.®