This article is more than 1 year old
Still running IE10? Not for long, says Microsoft
Browser support will be running out for most users on January 12
Microsoft is advising Windows users to update their browsers ahead of a new policy that will see some versions of Internet Explorer no longer supported.
The Redmond software giant said that beginning January 12, 2016, it will only support the newest version of its browser available in each operating system.
"The newest Internet Explorer offers improved security, increased performance, better backward compatibility, and support for the modern technologies that power today's websites and services," Microsoft said.
"Microsoft encourages customers to upgrade and stay up-to-date on the latest browser for a faster, more secure browsing experience."
After January 12, the unsupported versions of IE will no longer receive updates, and users who wish to plug the myriad of security holes that inevitably pop up for Internet Explorer will need to move on to a newer build.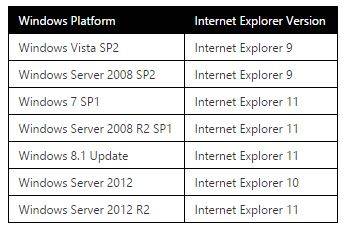 The supported version of IE for each Windows platform
Precisely which version of IE counts as the "most recent" will depend on the operating system being run, as older OSs are unable to run newer builds. For those users, Microsoft will maintain an older version.
On desktop Windows systems, however, this means the end of IE 10. Because Windows 7 is capable of running IE 11, and Windows Vista is limited to IE 9, the IE 10 build will fall between the cracks and thus be phased out for every Windows machine save for Server 2012 and Embedded 8 Standard.
Users could also skirt the IE issue totally, if they wish, and move on to Microsoft's new Edge browser. ®