Behold, Backblaze's public B2 beta blast off
Come in public cloud storage service testers, you know you want to
---
Everybody's darling cloud backup service startup, Backblaze, has opened up a public beta test for its coming B2 Cloud Storage.
With this B2 beta anyone can sign up and use the service. The private beta started in September, flagged as offering lower-than-Amazon costs, with a headline $0.005/GB/month cost compared with Amazon's then $0.022/GB/month and Google's $0.020/GB/month.
A Backblaze blog blathers (too many 'Bs', Ed) on about the B2 beta, saying more than 15,000 people joined in to test the service. You can sign up here and get the first 10GB capacity free.
The company was founded in 2007, took on $5.3m funding in an A-round in 2012, and its CEO is Gleb Budman.
It has a single data centre and stores more than 200PB of customer data using 54,675 disk drives fitted to 1,215 servers (storage pods), with 169.88TB/pod on average.
Backblaze said:
For both Storage Pods and Vault Pods, we use the EXT4 file system and the only access we then allow to these totally self-contained systems is through HTTPS running custom Backblaze application layer logic in Apache Tomcat.

One of the most important concepts here is that to store or retrieve data with a Backblaze Storage Pod or a Backblaze Vault Pod, it is always through HTTPS.

There is no iSCSI, no NFS, no SQL, no Fibre Channel. None of those technologies scales as cheaply, reliably, goes as big, nor can be managed as easily as pods with their own IP address waiting for requests on HTTPS.

We built our own software layer to monitor pod and vaults, decide where to store data and how to encrypt it, deduplicate it, and index it.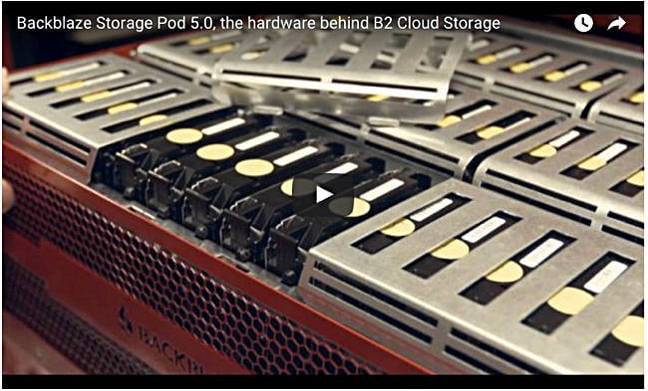 Backblaze pod video. Click image to switch to the video.
A notable aspect of Backblaze is its publishing of disk drive model reliability reports. It's an open company, as you'll see when you read its blogs. ®