This article is more than 1 year old
Here at last: That big data benchmark from TPC
First end-to-end database virtualisation test is also here
After steady pre-release publicity, the Transaction Processing Performance Council (TPC) has released new Big Data and virtualisation benchmarks.
The TPC is a non-profit corporation founded to define transaction processing and database benchmarks and to disseminate objective, verifiable TPC performance data to the industry. It currently has 22 full members*. The benchmark tests are run by suppliers and result in performance measures that enable different suppliers' systems to be compared objectively.
The two new TPC benchmarks are:
TPC-DS 2.0 - the first industry standard benchmark for SQL-based Big Data systems, including Hadoop and Apache Spark-based systems, as well as relational database management systems (RDBMSs).
TPCx-V - the first end-to-end database virtualisation benchmark publicly available via downloadable kit, and measures the performance of a server running virtualised databases.
TPCx-V measures the performance of a server running virtualised databases, and models properties of servers such as multiple virtual machines (VMs) running at different load demand levels. It has a mix of Online Transaction Processing (OLTP) and Decision Support Systems (DSS) workloads, and uses databases of different sizes and load levels.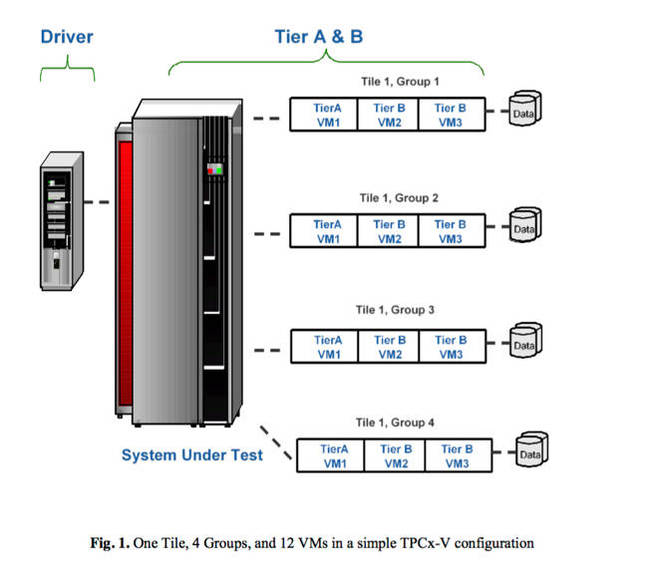 It simulates large fluctuations in the load levels within virtual machines, said to be representative of load elasticity in real-life cloud environments.
TPC-DS 2.0 is designed to to model the decision support functions of a retail product supplier, and measures query response time, query throughput, data integration performance and data load for a given  system configuration. It executes SQL queries of various operational requirements and complexities (eg, ad hoc, reporting, iterative OLAP and data mining), and periodically synchronises with source databases through maintenance functions.
Find out more about TPC-DS 2.0 here and TPCx-V here. TPCx-V is publicly available via downloadable kit and includes both self-audit and self-validation tools.
There are no performance results available for these two benchmarks but, hopefully, there soon will be.
The TPC is hosting its eighth annual International Technology Conference on Performance Evaluation and Benchmarking, collocated with the 42nd International Conference on Very Large Data Bases (VLDB 2016) on September 5, 2016 in New Delhi, India. Its focus will be on benchmarking emerging areas such as Analytics, Cloud and the Internet of Things. ®
* The 22 full members are Actian, Cisco, Cloudera, Dell, Fujitsu, HPE, Hitachi, Huawei, IBM, Inspur, Intel, Lenovo, MapR, Microsoft, NEC, Oracle, Pivotal, Red Hat, SAP, Teradata, Unisys and VMware.
There are five associate members: Ideas International, ITOM International Co, San Diego Supercomputer Center, Telecommunications Technology Association and the University of Coimbra.