This article is more than 1 year old
Tegile: Tesla, T4000 and playing the long game on cheap data storage
That pay-as-you-grow pricing model could be a winner
Analysis No one single thing stands out. When looking over Tegile there is no one special sauce ingredient. It just aims to be a better all-round business than its competitors, which means developing, selling and supporting a mixed media tier, external storage array for business users.
Tegile presented its attributes to an IT press tour junket in Silicon Valley in early December. Unlike fellow hybrid array startups Tintri (VM-aware storage) and Nimble (InfoSight) it didn't have a single stand-out attribute to its products ... but nonetheless, has grown its business to gain customers such as Tesla.
Tegile delivers a more finely-optimised array for its mid-enterprise market and aims to be ahead of the curve in its storage array-based technology development.
CEO Rohit Kshetrapal had no CEO experience before co-founding Tegile with CTO Rajesh Nair but he runs a tight and well-oiled ship with a strong sense of the direction that non-volatile memory can take Tegile's arrays, and also where the storage industry and its mid-range enterprise customers are going.
The customer count has passed 1,100 and there are around 1,800 Tegile arrays deployed by them. The average deal size in the latest quarter was $97,000, and Kshetrapal is one of 360 employees.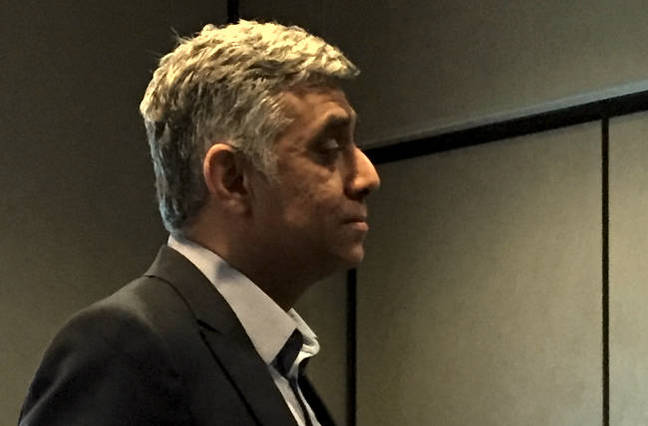 Tegile co-founder and CEO Rohit Kshetrapal
Competitive situation
He thinks that the current Dell-EMC acquisition process and its after-effects presents an opportunity. It's a good financial consolidation but raises the question of which array lines live and which die, and Kshetrapal conjectures Compellent and EqualLogic will die. That means their customer bases are ripe for approaches by fresh suppliers.
He thinks NetApp's base is a good prospect, with NetApp suffering four quarters of declining revenue. He says Nimble Storage is also in relatively poor shape, with its product range lacking an all-flash array.
Kshetrapal characterises Tegile as having one platform suitable for any workload, with block and file access, and flash and disk media types. There are three target applications: server virtualisation, desktop virtualisation and databases.
The T3000 scale-up array product has inline compression and deduplication, and thin provisioning. Both reads and writes are cached in flash and the dual controller operate in active:active mode, providing a form of parallel data access.
One big tech thing about Tegile's T3000 series arrays is that they adapt to different media types, two kinds of flash in the all-flash arrays, and flash and disk in the hybrid arrays. An IntelliFlash HD all-flash array, with 512TB of flash in a 3U enclosure, was announced in September. It is based on the T3000 platform, and its 180TB/rack unit density, Kshetrapal said, far exceeds Pure Storage, SolidFire and XtremIO TB/rack unit levels.
Tiering
LUNs in Tegile's array world can be moved between storage tiers. Flash media use is developing, with the performance coming from fast SSDs, moving on to NVMe flash cards and whatever comes after them, such as 3D XPoint persistent memory.
The capacity media tier is big, fat disk drives currently, with the prospect of moving to dense SSDs.
In the tiering area the CEO believes that Tegile's way of handling its metadata is important and Tegile's metadata acceleration has been patented. Metadata indices, the hottest data of all, are held in DRAM and NVRAM, with 3D XPoint a potential future medium for these indices.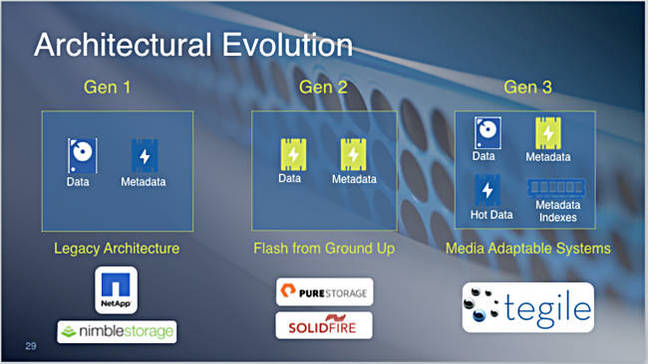 Metadata itself is held in MLC SSDs and NVMe NAND. Hot data is stored in MLC SAS SSDs and high-endurance TLC (3 bits/cell) flash. Standard data resides in MLC and TLC NAND, and SAS and nearline SAS disk drives. The three kinds of Tegile array each have their own take on the media in the four tiers:

Tegile has a pay-as-you-grow pricing model, with the charge being based on data written after dedupe and compression, neat.