This article is more than 1 year old
Tegile: Tesla, T4000 and playing the long game on cheap data storage
That pay-as-you-grow pricing model could be a winner
T4000
The current product line uses a T3000 architecture: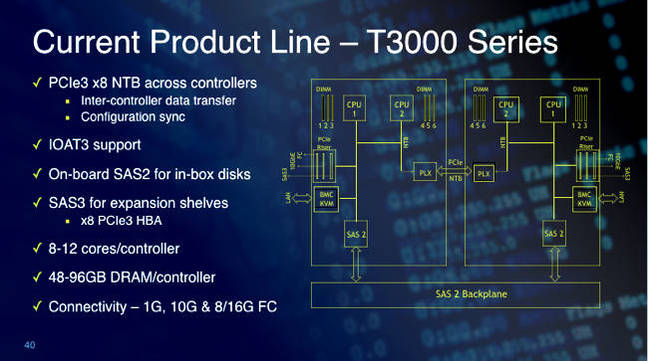 February 2016 should see Tegile announce its next-generation T4000 arrays: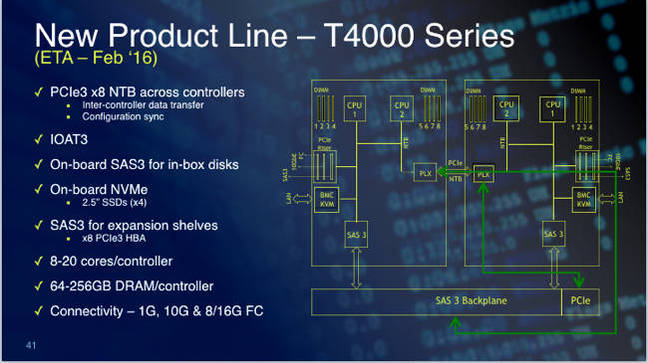 The controller CPUs are upgraded from an 8-12 cores/controller range to 8-20 cores/controller. RAM goes up too, from 48-96GB/controller to 64-256GB/controller.
This uses on-board SAS3 for inbox disks, instead of the T3000's SAS2, there being a SAS3 backplane. It will have on-board NVMe for four 2.5-inch SSDs.
Dual-ported SAS is coming to the T4000 line but not in the v1.0 release.
Scale-out LUNs
Tegile is also adding an effective scale-out capability to its arrays with a scale-out LUN concept.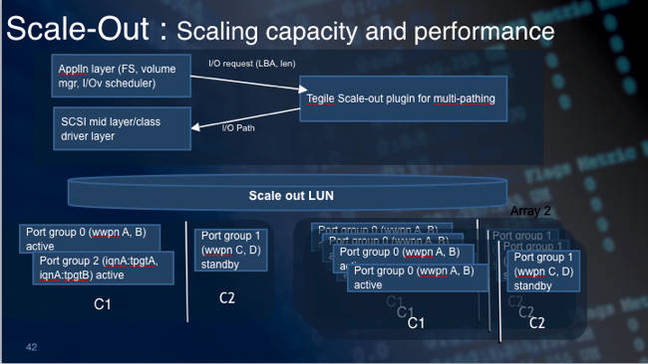 A LUN would have data written in mega-stripes across arrays and each controller in an array. In each array the mega-stripes would be cut into 2MB chunks with each controller looking after a set of these chunks.
Scale-out LUN access would use SCSI referral, which, Tegile says, is similar to Nimble's scale-out technology.
This scale-out LUN technology is coming in the first half of 2016 and Tegile has no intention, yet at least, of adding clustering.
There will also not be global deduplication in scale-out LUNs, merely the existing array-level dedupe. If global dedupe was implemented then, apparently data access latency could increase, unless Tegile required its customers to buy expensive node-interconnect links, which it doesn't want to do.
Roadmap
The roadmap for technology development has a potential addition of a public cloud tier to the arrays, with an obvious function being archiving, and giving the arrays a fifth tier.
We understand Tegile arrays will soon be certified targets for Commvault's data protection and management software. Veeam target certification may follow. It can be done now but is not officially supported.
Tegile said it can and will add 3D XPoint persistent memory devices, and expects the first such devices to appear in the second 2016 quarter. It would use them for even faster metadata indexing, and be addressed in non-block mode, as it does with NVMe devices now.
There is also a notion that metadata can be used for data life cycle management. The company thinks NVMe fabrics may be used in 18 months or so. But before then we could see 1PB IntelliFlash HD systems, a T4000-based one perhaps.
All in all
Tegile was open about its roadmap and forthcoming T4000 upgrade with scale-out LUNs and a potential cloud back-rend tier for long-term, cheap data storage.
This firm strikes El Reg as sharp all round, with neat technology, support, management, pricing, performance and development plans. Watch out for the T4000-class IntelliFlash HD. Western Digital is an investor in Tegile and is also buying IntelliFlash JBOF* inventor SanDisk, which has 3D flash chips coming. Denser flash arrays are a distinct probability if not a certainty.
If WD subsidiary HGST didn't already have its Active Archive array we might think of Tegile as a potential WD acquisition target. Heck, it would still make a nice acquisition if WD was that set on getting into the array business.
Apart from this we estimate Tegile is a rock-solid 2017 IPO possibility, absent any stock market horror stories. Stick this one on your watch list, it's a solid growth prospect. ®
* JBOF = Just a Bunch of Flash like a JBOD (Just a bunch/box of disks).