This article is more than 1 year old
No, Kim Kardashian's plump posterior's pixels did not break the App Store – just this El Reg man's mind
More eggnog, please
The Oxford English Dictionary selected an emoji as the Word of the Year for 2015. Not the word "emoji" but an actual emoji.
The one chosen was the "Face with Tears of Joy" emoji and the OED explained it has chosen this one because it was the most popular, making up 20 per cent of all the emojis used in the UK during the year, and 17 per cent of those in the US.
And if that wasn't depressing enough, 2015 is going to close with an even more mindless expansion of this concept: the branded emoji.
Yes, never one to miss an opportunity to make money from the most frivolous and shallow of urges, baffling reality TV star Kim Kardashian this week emitted an app features nothing more than "branded" emojis.
There are numerous small pixelated versions of her bottom. Several of her face. And then more of things that she holds dear: like expensive cars, hairdryers, lipstick, and so on.
Incredibly, the smartphone app seems to believe people will pay $1.99 for the pleasure of being able to send these little pictures. And even more incredibly, they are. It has become the top paid-for app in the Apple store in just one day.
And this is despite the fact it is not any good – the average review is 2.5 stars out of 5 – which is usually death for any app.
Unreal
And just to round out the ludicrous parallel existence of modern celebrity and its intersection with technology, the woman whose pixelated bottom features in the app, Kim herself, then tweeted the claim that the app has broken Apple's App store and taken it offline.
Apple, I'm so sorry I broke your App Store!!!

— Kim Kardashian West (@KimKardashian) December 21, 2015
This claim was then reported in the media as fact, prompting Apple to issue a statement pointing out that it has simply not happened and the store has not had any problems at all.
It is worth nothing [is it, though? – ed.] that a very similar boast was made last year: it was claimed real photos of the woman's bottom would "break the internet" before they were even posted online. They didn't break the internet, but everyone reported the made-up fantasy buzz as if it had, and that's enough.
Having gone from real photos and fake claims, to fake photos and fake claims, you have to wonder what 2016 will bring us.
The hope may be that with the internet squishing fast-moving frivolity into society's face on a daily basis, it will manage to replace the aging Kardashian with some equally undeserving object.
In fact, trendsetter that she is, maybe Kim has sown the seeds of her own demise. Rather than fixate on a real person in cartoon form, maybe it's time for the first celebrity emoji.
The 1980s are big right now. Is it time for a Max Headroom revival?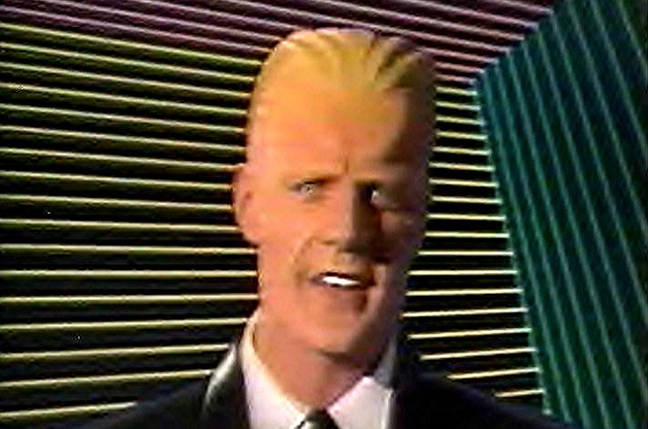 The 80s are big right now - is it time for a Max Headroom revival? Google it, kids.
Is it just us or does he have a passing resemblance to future President Trump? [Enough – ed.]