This article is more than 1 year old
Feeling abandoned by Adobe? Check out the video editing suites for penguins
Options for those lacking a Linux render farm
Pitivi
OpenShot's biggest competitor is Pitivi, which once scored a spot as the default video editor in Ubuntu. It proved a little unstable for that role (and Ubuntu decided it didn't need a video editor), but a lot of work has gone into fixing that in the years since it was booted out of Ubuntu. In fact, in my testing it was considerably more stable and usable than OpenShot .
The Pitivi interface looks very similar to OpenShot; it's clean, simple and relatively easy to figure out without going to film school. In fact the two apps are so similar that unless you've used both side by side you'd be hard pressed to tell them apart. Under the hood though it uses GStreamer, so the output results and codec support will be different than OpenShot.
Pitivi used to be very unstable. The last time I tested it for The Register about the only thing it did reliably was crash. Somewhere in the past few years though the developers have largely ironed out those bugs. In my testing on Mint 17.2 Pitivi was faster than OpenShot when rendering and playing back 4K clips (downsized to 1080p) and didn't crash once.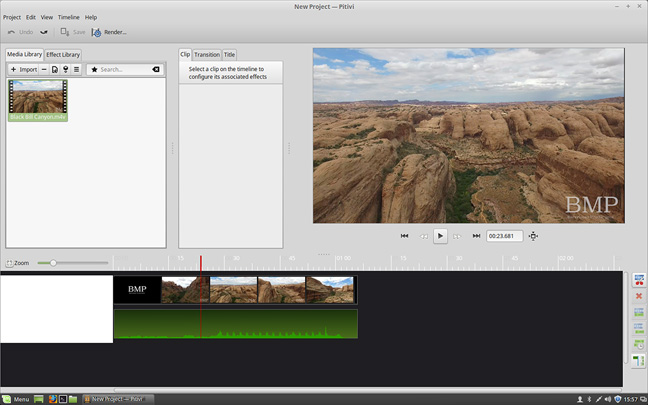 Pitivi's clean interface, lacking some features but one of the easiest to use for beginners
Pitivi offers a nice range of filters and color manipulation tools, all pulled from the frei0r projects, and it allows you to set keyframes for applying effects' properties over time.
Pitivi has matured nicely since Ubuntu ditched it and if you're just getting started in video editing, I suggest you try Pitivi first.
Kdenlive
Kdenlive is a step up from Pitivi and OpenShot, but is correspondingly more complex. Fortunately, Kdenlive has some of the best documentation of the bunch and, because it's very popular, there are loads of tutorials around the web (this might be a result of one very nice extra feature in Kdenlive – you can record your desktop for easy screencasting).
Kdenlive does have its quirks, including the fact that it seems to be very crash-prone on Linux Mint, so much so that I ended up doing my testing in Debian 8, where it worked fine.
There are also some things that are less discoverable about Kdenlive, such as the only way I could find to apply a transition was right-clicking the clip in the timeline.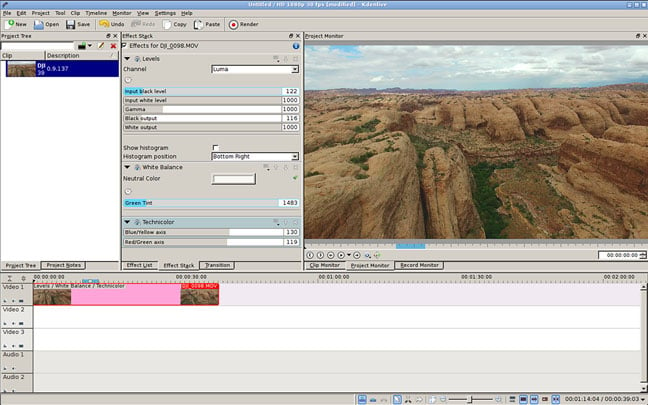 Advanced color correction options in Kdenlive
However, Kdenlive handled 4K clips without missing a beat and was the speediest overall in my testing. It definitely has a steeper learning curve than Pitivi, but it also offers more features and better codec support.