This article is more than 1 year old
Feeling abandoned by Adobe? Check out the video editing suites for penguins
Options for those lacking a Linux render farm
Shotcut
There are two relative newcomers worth taking a look at as well. Both fall into the intermediate range, being somewhat more complex than OpenShot, but less so than Cinelerra or Blender.
The first is Shotcut, which is the latest effort from Dan Dennedy, who was once the driving force behind Kino (another video editor) and still works extensively on the MLT backend that powers Shotcut as well as several others in this list, including Kdenlive, OpenShot 1.x and Flowblade.
Features-wise Shotcut is similar to Kdenlive, though you would not know that from looking at it. Much of Shotcut's feature set is hidden away in the interface, including the timeline by default.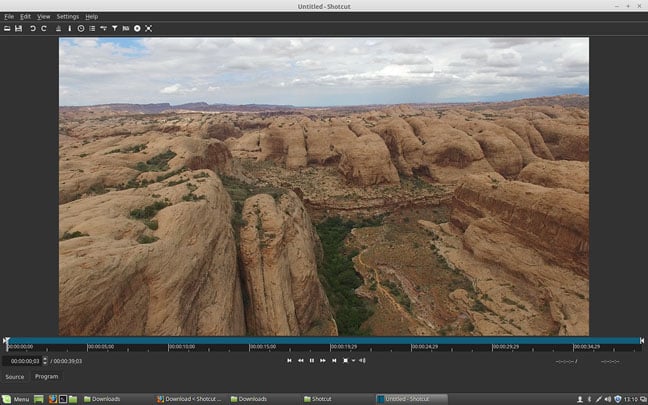 Shotcut hides most of its interface away, letting you open up only what you need
It takes some getting used to as this buried UI applies to much of the rest of the app as well. For example, if you want to apply a filter, you need to right-click your clip and select filters. However, if you dig into the tutorials and can wrap your head around the way it works Shotcut becomes a very powerful editor.
In fact, the main reason I've been sticking with Kdenlive is that the color corrections are somewhat more powerful, but it may well be that I just haven't discovered everything hidden away in Shotcut.
Shotcut handled everything I threw at it, though as with the rest adding a ton of filters to a timeline full of 4K clips will slow things to a crawl.
Flowblade
Flowblade is the other relative newcomer to the Linux video scene and just launched a huge update that sees the app ported to GTK3, which seems, from my testing, to have made the interface quite a bit snappier.
Flowblade is more traditional and out-of-the-box than Shotcut and offers some impressive features for a 1.x release, including a wide range of filters and color correction tools.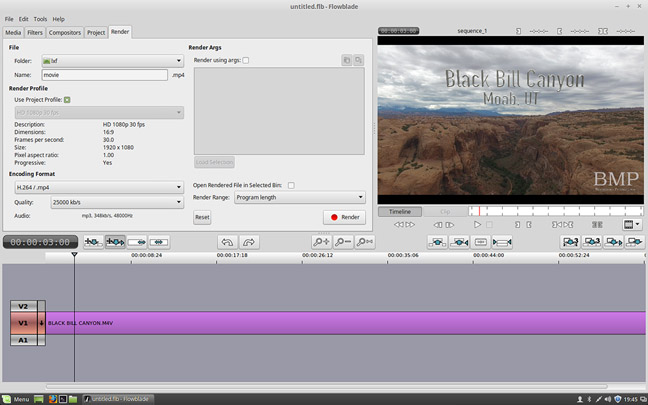 The rendering panel in Flowblade
The biggest problem I had with Flowblade is that it's very poorly documented. While it is a reasonably powerful editor on par with Shotcut and Kdenlive, given the lack of documentation I would not suggest it for video editing newcomers.