This article is more than 1 year old
Who will buy our darn DRAM? Micron smacked in wallet again
Four consecutive falling quarterly revenue numbers confirm trend
It was not a happy Christmas for Micron, as the numbers confirm it is suffering in the solid state memory and storage business with a fourth consecutive decline in revenues and fifth in profits.
It made $3.35bn in revenues for its first fiscal 2016 quarter, compared to $4.57bn a year ago and $3.6bn in the preceding quarter, down 27 per cent and 7 per cent respectively.
Net income was $206m, 79 per cent less than the $1bn recorded a year ago and 56 per cent lower than the $471m reported for the prior quarter. At this rate it will make a loss in its next quarter. What's going on, and will 3D XPoint memory signal a change in its fortunes?
The company said revenues for the quarter, which ended December 3, 2015, were "primarily due to a 13 per cent decline in DRAM average selling prices. Non-Volatile trade revenues for the first quarter of fiscal 2016 declined 2 per cent compared to the fourth quarter primarily as a result of a 7 per cent decline in average selling prices partially offset by an increase in sales volume."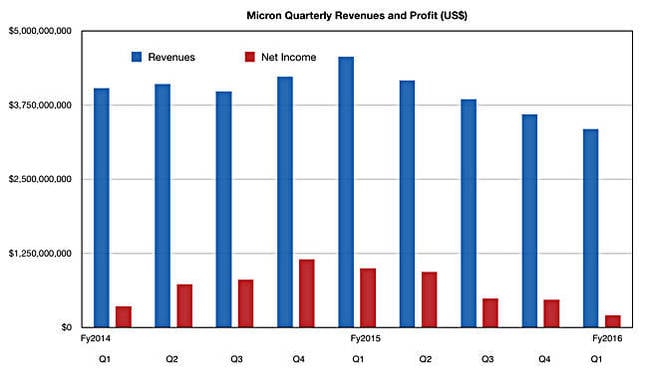 Stifel MD Aaron Rakers notes Micron's "DRAM revenue declined 10 per cent sequentially and ~38 per rent y-on-y; this compares to -20 per cent sequentially for the August [previous] quarter. This reflected a 13 per cent sequential decline in DRAM average selling prices."
The main memory weakness was in the PC market.
CEO Mark Durcan naturally looked ahead to sunny revenue uplands: "While conditions in some market segments are challenging, we believe long-term industry fundamentals are healthy, and we remain focused on the deployment of our advanced DRAM and 3D NAND technologies and products."
There was price competition in client SSDs, particularly in lower-cost MLC (2 bits/cell) and TLC (3 bits/cell) product, according to Stifel MD Aaron Rakers.
Enterprise SSD revenues grew 13 per cent q-on-q in the quarter, and from a low base.
Micron has been converting 2D planar NAND fab facilities to 3D NAND and as a result, Rakers thinks, has been incapable of making enough NAND for the demand out there. He believes SanDisk is doing a better job in this regard.
There is no immediate revenue rescue coming from XPoint memory, the stuff that's a 1,000 times faster than NAND but not as fast as DRAM, but cheaper. Micron thinks it will see revenue contribution during 2017.
Durcan said; "These products and technology transitions can be disruptive to the manufacturing environment in the short-term, but we believe they will pay dividends going forward as our product portfolio will be better positioned to address market demand."
El Reg' thinks competition in the NAND product area will intensify, making it harder for Micron to progress. For example, WDC will drive SanDisk harder and be better able to vertically integrate flash chips and controllers into systems once the SanDisk acquisition is complete.
Toshiba, now concentrating more on storage as part of its revitalisation plan, will also drive its NAND operations harder.
Durcan said: "Taken together, expected market conditions and new product qualifications will continue to create challenges in the near-term." The immediate outlook is for Q2 fy2016 revenues to be between $2.9 and $3.2bn, $3.05bn at the mid-point, representing another annual and sequential revenue decline, and with a loss a distinct possibility.
Micron expects to have 3D NAND products commercially available in the second half of 2016. It has sampled 256Gbit 3D NAND chips with around 20 potential customers.
Micron/Seagate enterprise SSDs are expected to ship by the middle of 2016. Enterprise 3D NAND SSDs are expected to be sampling in the current quarter, and we must certainly expect Seagate to be shipping enterprise 3D NAND SSD product a couple of quarters after that - if not sooner.
Micron's Christmas quarter was affected by the continuing PC decline, enterprise SSD product weakness, and Samsung's aggressive 3D NAND production and selling, together with competitive client SSD pricing. Its inability to produce enough NAND due to the 2D-to-3D flash transition was also a factor in its poor results.
And this downward trend is set to continue as Micron will go on being affected by these trends. There is also a new potential headwind with the WDC-SanDisk acquisition signalling another turn in the flash vertical integration ratchet. All NAND foundry operators face the same opportunity or necessity here that WDC and SanDisk have reacted to, and these include Intel, Micron, SamSung, SK Hynix and Toshiba.
How Micron reacts to it and how it deals with the other factors will result in a happier Christmas in 2016 or a second downbeat one. Oil tankers are not known for being nimble, and neither are multi-billion dollar businesses. ®