This article is more than 1 year old
2016 in mobile: Visit a components mall in China... 30 min later, you're a manufacturer
The Reg on the rise of Shenzhen generics, the fall of wearables and other coming trends
One trend overshadowed all others in 2015: there's tons and tons of everything. You probably know why.
China has piles of cash, which means huge capital splurges in all directions. Which has caused a global glut of stuff. Steel, aluminium, rubber ... and consumer electronics. China might not exactly be dumping smartphones, but you can be forgiven for thinking that it does.
"The economy is more distorted and imbalanced than during the Great Leap Forward," opines Goldman Sachs vice chairman Ha Jiming.
I found that I gave up cataloguing things under the category "totally pointless new stuff" a few hours into the IFA show at Berlin in September. Global overproduction has had some interesting knock-on effects, though.
It's why Apple has become a personal financing company, and how it came to launch and hype a product that would (surely) have had Steve Jobs throwing tantrums.
Read on to find out.
Shenzhen generics
For a couple of years now, the premium Android flagship has been the biggest burning platform of all, and you can find the reason in downtown Shenzhen. You can walk into a multi-storey component mall on Huaqiang North Road, point at a few things ("give me 200 SoCs") and in half an hour you're a phone manufacturer. This year even a British startup has joined in.
Even without the Shenzhen economic miracle, the smartphone was becoming part of a commoditised, super saturated market. With Google's help, Hong Kong and Shenzhen have done to smartphones what they already did to CD players and TVs over the last decade.
HTC and Sony hang on grimly. Samsung smartened up its premium products, but that wasn't enough to save its phones chief; the mobile part of the $48bn-a-year Samsung Electronics giant has a new boss. The rest of the success is Chinese.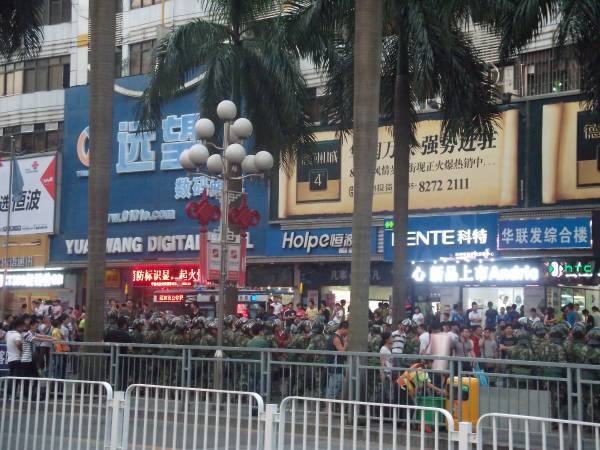 Yuanwang Digital Mall, Shenzhen
What happened in 2015 was that the effect began to shake up other markets in the West, a quite different beast to the home market. In short, supply met pent-up demand, and network operators have had to deal with a much feistier customer.
Last year "plenty good enough" flagships such as the OnePlus One (if you could find one) established that you could have a premium phone for less than half of the £600 demanded for a heavily promoted big name brand. This allowed consumers to break free of the network lock-in and its long-term HP/leasing deals.
Two thirds of post-pay mobile contracts in the UK in 2017 will be under £20 a month, CCS Insight predicts. It's as well for the mobile operators that many people now have multiple SIMs, and as consumers here in the UK we haven't got as good at demanding better multiple bundles and family deals as consumers in other markets.