Storage 2016 A period of quiet, rest and reflection is what the storage industry needs after a frankly hectic and very eventful 2015.
It won't get it. The opposing forces of simplicity and complexity, access speed versus capacity, server versus array, on premises versus cloud, and tuned hardware and software versus software-defined are still in deep conflict. And don't forget the containerisation issues in the background.
There is also a growing generalised attack on storage data access latency, just to add something else into the mix.
Sometimes it seems storage is in perpetual catchup mode, attempting to deliver data to servers that continually want more, more, more and faster, faster faster, while IT management wants lower acquisition cost, lower operating cost, easier management, lower cooling cost, and more reliability. Meanwhile, developers want free software and API access to everything.
"Gimme a break, I can't do everything," says the storage professional. "Why not?" comes the reply. "That's what we need. More of what you're doing already, only better." So, what can we expect to see as 2016 progresses?
Technology vision
The tensions between storage simplification and complexity will continue to drive opposing forces of product development, with complexity delivering better tuned hardware and software functionality, while simplicity eases use and management and lowers those costs. Management abstraction layers can hide complexity but, for the most granular control, you typically need to touch the levers yourself.
We should see growing numbers of appliance style, scale-out, HCIA-type systems that answer simplicity's call. But we can also foresee initially simple scale-out and HCIA systems getting added management bells and whistles to better fit them to specific workloads.
Big Data systems will continue to be pressed on us by suppliers saying there's digital gold in them thar mountains, and lakes, or seas, or swamps (choose your symbolism) of unstructured data, and their products/services can help you find it.
But nobody actually knows if the digital gold exists, and what quality it is, and how much there is of it. And everybody's digital gold is different. No data scientist is going to come running down the IT street clutching an industry standard nugget of digital gold, so sparking a gold rush. It's not like that in the Big Data world. We'll see some disillusionment with Big Data systems, I think.
The industry will continue its search for a way to deliver hyperscale IT deployment efficiencies and power to customers without actual hyperscale needs and budgets. Look for Dell to take the lead here, with lower-than-hyperscale systems.
Compliance and data archiving needs will grow, with spin-down, fat disk archives proliferating, providing fast-access archives alongside familiar, dependable, going nowhere but essential tape library archives. Software will integrate the two and active archiving will grow.
Secondary storage silo consolidation efforts will grow as customers tentatively explore the idea of replacing secondary storage silo sprawl with physical or virtual single secondary storage repositories. Actifio, Catalogic, Cohesity, Delphix and Rubrik will lead the way, with Primary Data aiming for a single virtual primary and secondary data silo abstraction layer.
In-array analytics will grow to provide better array capacity and component fault management. All vendors can be expected to market analytics-based array management facilities.
Server-based, scale-out storage will have a very good year.
Media
At the media level we will see:
3D XPoint memory devices used as persistent memory in servers, but SW to use the stuff will lag
3D NAND will start appearing from SanDisk, Toshiba, Micron, Uncle Tom Cobley and all
3D QLC (4 bits/cell) flash will start appearing, energising the solid state archive debate
12TB HDDs, helium-filled and shingled at first, then un-shingled
16TB SSDs using 3D TLC NAND, will appear, with 20TB QLC ones a possibility
No surprise but LTO-7 tapes and drives will be heard about before the end of the year
ResistiveRAM alternatives to XPoint will appear from Samsung and WDC/SanDisk/Toshiba
Memristors will not appear with HPE servers attracted to XPoint
Samsung flashDIMMs will appear, using some Netlist tech
Systems
NVMe Fabrics will start proliferating as ways of getting storage closer to servers become feasible
Traditional array decline continues
Infinidat takes share
Huawei becoming a larger player
HCIAs grow strongly
HPC will grow strongly
Rack-scale flash bursts on the scene with DSSD
Public cloud
Amazon, Azure and Google will grow, with Azure making more progress in enterprises as it transitions its on-premises customers to becoming Azure acolytes.
The race to the bottom in cloud storage pricing will continue and we might see any one of the big three buying in-cloud data protection, tiering and cloud storage gateway software to gain more enterprise traction. There must surely be attraction for them in adding data services to their basic storing-the-bits functionality.
Software
There will be a continuation of storage SW trends in 2016 with SW-only SANs progressing, meaning DataCore and Falconstor, SW scale-out file systems, and SW-only HCIAs. Nexenta will do well ... and may do very well indeed. Actually, DataCore could have a break-out year if its parallel IO technology leads to significant performance gains.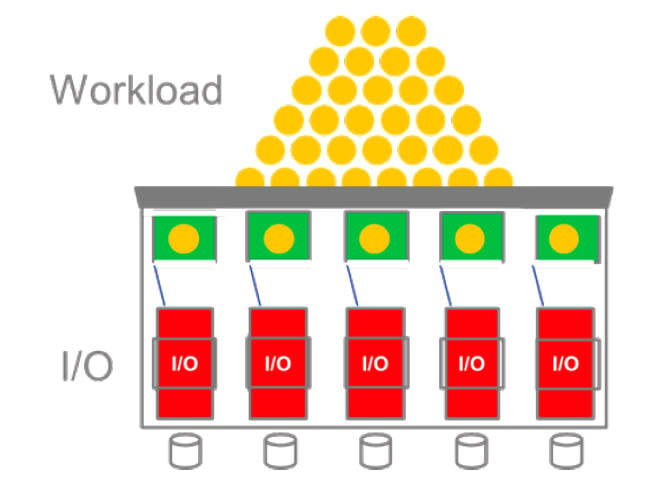 DataCore parallel IO
SW-only object storage suppliers should do well and there may be another acquisition.
We will see:
Customers trying out primary storage silo consolidation with Primary Data
Secondary storage consolidation — Actifio, Cohesity, Delphix and Rubrik, with Catalogic as an also-ran.
VVOLs will be taken up by customers and a Hyper-V VVOL equivalent will appear
Second-generation VVOLs will ease the burden on VMware admins to become quasi-storage administrators
Container-specific storage products will start appearing
Storage suppliers
Prophesy here does put you on dangerous ground, but here, in alphabetical order, we go:
Actifio and Delphix will be bought or IPO
Cisco will re-enter the storage business with a server-focussed offering
Cloudera will/may IPO
DataDirect will grow strongly
DataCore's parallel IO will be hot
Dell/EMC will lose some storage array lines and meet fresh problems on their way to the merging
Dropbox will/may/could IPO
HPE storage will grow strongly
Huawei will come into greater prominence

IBM's storage business will continue to decline
Intel will push on into the storage system space with interconnect and SOC products alongside its Optane XPoint devices
Kaminario will see slowing growth rates and will likely not IPO or be acquired
NetApp will see All-Flash FAS prosper while overall sales continue to fall
Nutanix will IPO
Object storage will see good growth but recede behind S3 and file access protocols
Oracle will grow stronger but fail to break out from the Oracle stockade
Quantum will struggle but grow
Scality will be bought
Seagate's OEM array business (Dot Hill) will grow and Seagate will shift more of its own SSSDs and HDDs that way
SpectraLogic will quietly grow

SpectraLogic tape Terapack

Tegile and Tintri will IPO
WDC with SanDisk will become a major force in flash memory
Violin Memory will stagger, and perhaps disappear from the running
X-IO will grow but not have a break-out year
Storage industry
The storage industry will see a shrinking number of startups this year as software-defined storage has run full tilt into the questioning buffers, being confronted with: "Yeah, you're SW-defined but what do you actually do that's new and needed?"
We may see containerisation-focused startups appearing, as that scene is so dynamic and energetic.
The effects of non-volatile memory, server-located storage ideas, the cloud, the attack on storage access latency, and the opposing forces of simplification and complexity will continue to wreak havoc on mainstream, legacy suppliers, and provide energising opportunities for existing startups. It's going to be an energetic year ... though maybe not quite as transformational as 2015. ®