A British man is facing a possible five years in a Kyrgyz jail after ill-advisedly comparing local horse meat sausage chuchuck to a stallion's todger.
Welding superintendent Michael McFeat was celebrating New Year's Eve at the Kumtor open-pit goldmine in eastern Kyrgyzstan when he posted photos on Facebook of a "fantastic Hogmanay feast". Accompanying the snaps was a description of "Kyrgyz people queuing out the door for there [sic] special delicacy the horses [sic] penis"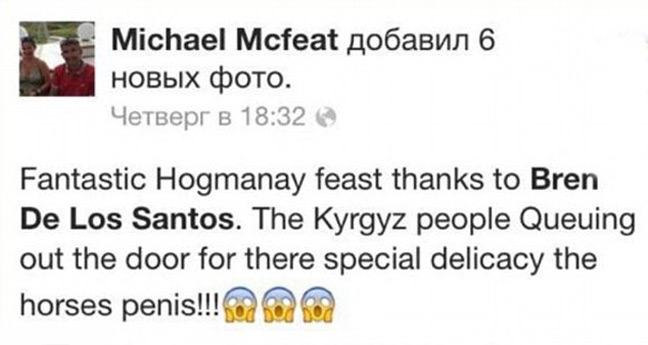 McFeat's slur on the popular chuchuck immediately prompted strike action by outraged Kyrgyz mine workers. The 39-year-old Scot quickly pulled the post and issued a Facebook apology saying he "truly never meant to offened anyone and im truly sorry as it was never my intension". However, he was arrested on racial hatred charges, punishable by three to five years' incarceration.
According to the BBC, the Foreign office is on the case. A spokesman said: "We are in contact with the local authorities after a British national was detained in Kyrgyzstan and are ready to provide consular assistance." ®