LogMeIn is launching its first revamp of the LastPass password management app, three months after its controversial purchase of the popular utility back in October.
LastPass 4.0 features a modernised user interface as well as features designed to promote secure, simple password management for individuals, teams and companies.
The redesigned password vault, browser extension menus, and web vault at LastPass.com feature "large website icons, simpler navigation, and bolder colours".
There are also tools to help organise a LastPass vault and manage data, including hover menus with options to launch, edit, share or delete items.
Fans of the older interface will have a toggle option, which will allow them to switch between the previous interface and new 4.0 design for the next few months, at least.
On the features front, the biggest change is a new "Emergency Access" feature. A new feature in 4.0, Emergency Access lets users designate trusted family, friends or colleagues to have access to their password vault in the case of an emergency. For added security, a user can require a waiting period between when an Emergency Access contact can request access to the vault. During the waiting period, users can decline an Emergency Access request to their vault.
In addition, the update will offer revamped sharing through a new Sharing Center. The new LastPass Sharing Center is one central location that allows users to easily manage and share passwords in a secure, encrypted manner.
"Whether partners need to share logins for the mortgage and paying bills, or ageing parents need to share important logins with their family, the Sharing Center keeps the passwords in sync for everyone," the pitch goes.
The designated driver / owner of an account can manage who has access to shared accounts, and has the ability to remove access at any point.
The new LastPass 4.0 is immediately available on all browsers and platforms, including the browser extensions for Chrome, Firefox, Safari, Internet Explorer and Opera on Windows, Mac, and Linux. LastPass mobile apps on Android and iOS has also been outfitted with the revamped technology.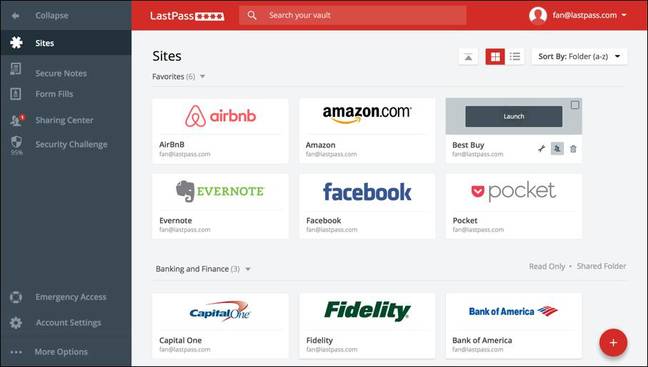 LastPass's revamped vault
LastPass Free offers a password manager with unlimited password storage, automated password saving & filling, password generator, secure notes, shopping profiles, password sharing and two-factor authentication for added security.
2FA used to be a paid-for feature but now comes as standard, with LogMeIn looking to make bank by charging $12/year for LastPass Premium, which offers the multi-platform and mobile support absent in the freebie product.
LastPass Premium features sync to unlimited devices, sync shared passwords with a Shared Family Folder, plus Premium two-factor authentication options.
There's also a corporate version of the product, priced at $24/user/year. LastPass Enterprise combines Single Sign-On for cloud apps and secure password vaulting, centralized oversight, automated management, and safe password sharing.
A microsite explaining the changes is here or, for those who prefer it, there's a short video on YouTube below.
"With LastPass 4.0, we set out to design an intuitive password management experience that could help both first-time users and long-time LastPass customers – personal accounts, teams and entire businesses – to more effortlessly follow and embrace password best practices while maintaining a secure digital identity," said Joe Siegrist, chief and co-founder of LastPass in a statement. ®