Seagate's new drives are so shiny, we should call them ... bling buffers
Ring buffers, it's supposed to sound like ring, oh forget it
---
Seagate is showing three stylishly packaged external disk drive products at the CES 2016 hypemare in Las Vegas this week.
The three are:
2TB Backup Plus Ultra Slim; interesting acronymic possibility – BPUS. Bagpuss, perhaps?
1TB LaCie Chromé; a solid state drive being angled like the accent
LaCie Porsche Design mobile and desktop disk drives
The Backup Plus Ultra Slim is claimed to be the world's thinnest 2TB mobile hard drive, being a thinner version of the existing Backup Plus Slim, which has a 2TB capacity as well.
For file-sharing purposes, 200GB of Microsoft OneDrive cloud storage for two years is included. The BPUS has Lyve software bundled with it "which helps users to protect ... photos and videos from their digital cameras and smartphones and automatically organises them into a single unified library accessible from any mobile device or computer."
There is additional software – the Seagate Dashboard, which offers users either one-click on-demand or customisable, scheduled backups for their devices.
The BPUS box is 9.6mm thick, and Seagate says it's more than 50 per cent thinner than other 2TB drives on the market. It has a golden or platinum metal finish, "designed to complement the looks of stylish computers, tablets and phones."
Seagate Backup Plus Ultra Slim
The drive inside is likely Seagate's Ultra Mobile Technology product, which was announced as a technology in September, 2015, with two platters, a 7mm thickness, 2TB capacity, and 3.17oz weight. The rotation speed was unspecified but we think it's 5,400rpm.
The LaCie Chromé is a mirror-finish desktop external drive sitting at an angle on a rounded base: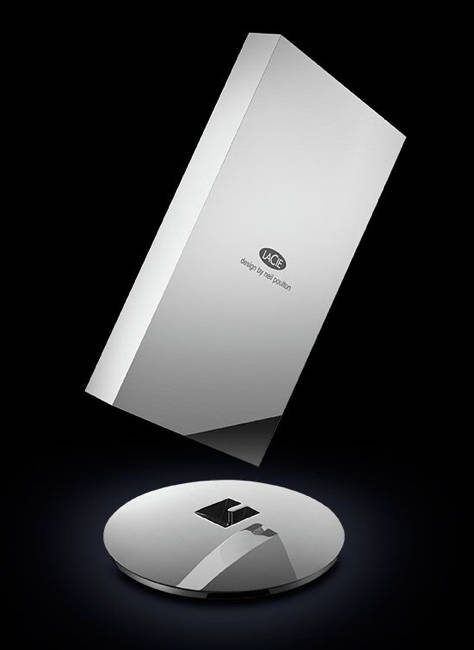 LaCie Chromé
It's a Neil Poulton design; he's designed other LaCie external drives, and features 2 x 500GB M.2 SATA SSDs inside the aluminium casing, with USB 3.1 gen 2 technology (10Gbit/s) with USB-C connectivity and a flash drive inside. The SSDs are in a RAID 0 configuration and the bandwidth is up to 940MB/sec.
Seagate suggests two hours of 4K GoPro footage could be written to the drive in a little over one minute. You could edit hi-res video stored on this drive. It does not have a Thunderbolt interface by the way.
The USB-C connector has no up or down side and the connectors at both ends of the cable are the same. It is compatible with standard USB 3.0 (Type-A) ports via an included adapter cable.
There is a fan to introduce cool air and a heat sink that draws hot air away from the SSDs.
As usual with LaCie and Neil Poulton drives, the launch blurb goes into design rhapsody mode:
This signature device has been designed in collaboration with acclaimed industrial designer Neil Poulton to bring uncommon sophistication to a workspace. The elevated form is an homage to a 1935 bronze statue from Constantin Brâncuși, one of the most influential sculptors of the 20th century.

Once machined, the enclosure is hand assembled, then chromed to a mirror polish. Forged from solid chromed zinc, the stand securely docks the product with powerful neodymium magnets – and detaches for easy transport.
Neodymium magnets indeed!
Enjoy this Neil Poulton quote: "The LaCie Chromé is a concept reduced to its essence: a rectangle tilted onto its corner, melting into its base like quicksilver."
LaCie's Porsche Design external mobile and desktop drives also use the USB-C connector to hook up their aluminium rectangular slabs to desktop or laptop hosts. The design house is Porsche Design Group (Porsche Lizenz- und Handelsgesellschaft mbH & Co. KG, not the VW-owned Porsche cars business).
There are mobile drives in this set with 1, 2 and 4TB capacities. The desktop versions have 4, 5 and 8TB capacities.
There is more design aesthetics blurbery:
The rounded corners, high-polish beveled edges and a sandblast finish combine to form the distinctly Porsche Design modern and elegant style.

Since 2003, LaCie and Porsche Design have worked closely to deliver products with flawless functionality in its purest form. The sports and luxury-lifestyle brand and the leading technology company complement one another, with technical influence from LaCie and an exclusive and impeccable design presented by Porsche Design.

"Discerning consumers value elegant design in their devices and accessories," said Dr. Christian Kurtzke, CEO, Porsche Design Group. "These new drives meld high-tech materials with the sleek visual purism of Porsche Design's iconic style."

... Some call it luxury? We call it essentials for a challenging future.
Pure copy-writing class.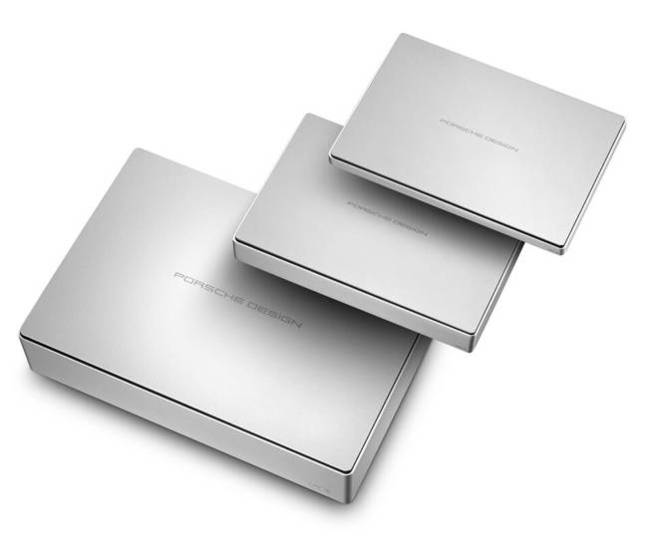 LaCie Porsche Design drives
If the drive is connected to its own power source then it will power a connected and compatible* notebook and charge its' battery. That's a property of the USB-C connector used.
Availability
The Seagate Backup Plus Ultra Slim will be available this quarter from Amazon and Seagate.com.
The 1TB LaCie Chromé has a 2-year limited warranty that can be extended and upgraded. It includes complimentary web-based resources, in-house technical support and worldwide repair and/or replacement coverage.
Its MSRP is a cool $1,100.00 and this shiny little desktop exec toy should be available this quarter through the LaCie Online Store and LaCie Resellers.
The Porsche Design drives have a 2-year extendable warranty like the Chromé product. A 1TB Porsche Design mobile drive starts at $109.95 while a 4TB desktop version starts at $209.95. Buy them from the LaCie Online Store and LaCie Resellers as well as Porsche Design Stores and online. ®
* When the product is connected to a standard electrical wall outlet, it delivers up to 30W of power to charge compatible laptops such as Apple's MacBook.