This article is more than 1 year old
Rubrik's cube: Storage firm founder drenches us in upstart Kool-Aid
Pride might not come before a fall here
Comment The intellectual firepower at the top of Rubrik's founding engineering team is exceeded only by the relentless promotion of the company, its founders, engineers and prospects by CEO Bipul Sinha, a VC partner.
We met Rubrik during a Silicon Valley IT press tour in December 2015. After drinking coffee and enjoying doughnuts (pictured above), we sat down to business.
Rubrik has developed a backup appliance squirting data off to the cloud but it actually wants to do so much more than that.
It has hit $51m funding after two rounds from Lightspeed and Greylock after being founded in 2014 by CEO Bipul Sinha, architect Soham Mazumdar, VP engineering Arvind Jain, and CTO Arvind "Nytro" Nithrakashyap.
Sinha was involved with database products at Oracle, is a Lightspeed venture capital partner and is chair of (and investor in) Nutanix. He told us that when he met the other Rubrik founders and heard their ideas he decided to go for broke and persuaded them to let him run the company.
Sinha is a relentless promoter. He told us John Thompson (Symantec) was the first investor to hand over a seven-figure cheque. He was followed by Frank Slootman (DataDomain) and Mart (Veritas) Leslie, added the chief, implying that if these winners think Rubrik is a winner, it is one.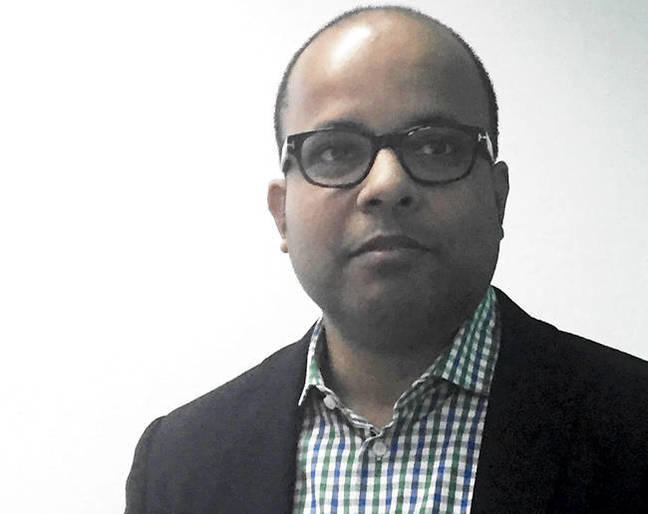 Rubrik co-founder and CEO Bipul Sinha
Nithrakashyap was a co-founder of Oracle's Exadata and a Principal Engineer for Oracle's Cluster. Jain was a founding engineer at Riverbed and a Google Distinguished Engineer. Mazumdar was a Google staff engineer and a Facebook engineer as well as being co-founder and CTO of TagTile – which was acquired by Facebook.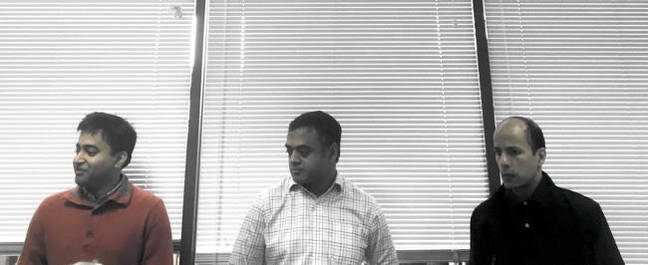 (Left to right) Architect Soham Mazumdar, CTO Arvind "Nytro" Nithrakashyap and VP engineering Arvind Jain listening to Bipul Sinha saying how great they are.
As far as Sinha is concerned, Rubrik was founded by the A-Team and its engineers are the cream of the crop. Sinha talks about his and every other Rubrikers' credentials like an evangelist on steroids, with no such concept as hyperbole.
Rubrik's mission is to simplify data protection, backup and recovery, replication and Disaster Recovery, and archival. It does this by converging backup software and globally deduped storage, with web-scale-capable, clustered appliances.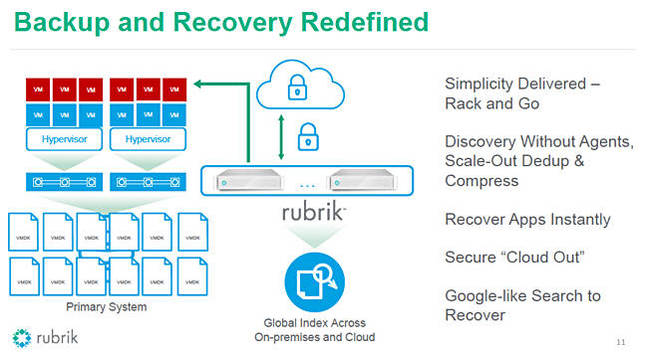 It supports cross-site replication and disaster recovery.
Rubrik says you can accelerate test and dev by having developers get the data they need off the Rubrik protection repository and not from file/database copies. Its technology provides, it says, complete data management, with an enterprise having a production SAN and Rubrik repository; nothing else is needed.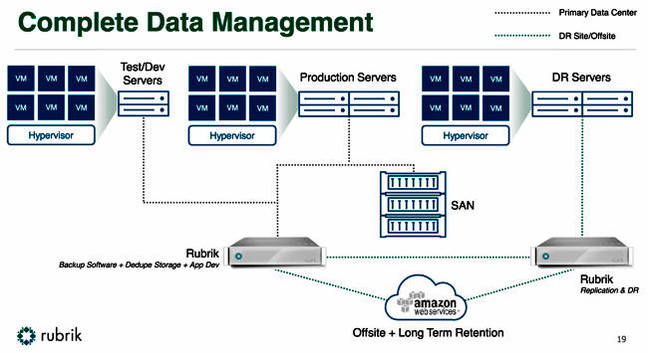 Rubrik claims it provides complete data management
In this aspect Rubrik seems similar to Cohesity: it's a secondary data platform but with an initial focus on backing up VMware servers. Its product is like a hyper-converged media server with all the backup structure converged into it plus an abstraction layer GUI.
There are just 65 or so appliances in the field but Rubrik says it is growing "very rapidly," which would seem to be the case. There are some 40 channel partners and the product has had two major releases.
Its technology eliminates tape by letting people archive to public cloud. Rubrik, Sinha says, is an infinitely scalable platform. The flow of data from primary source to Rubrik is by VMware APIs. Data is ingested into flash and then cascaded to disk. There is parallel ingestion across all nodes in a cluster, with no intermediate hop to a backup server.
Sinha said: "Our metadata is distributed and so fault-tolerant. We scale the metadata in the cluster. We have a scale-out metadata system [which is] SQL-based."
But he is not interested in taking over all the backup area: "We are not in the end-point backup game. Human -readable files are not for us. Machine-readable files – like database – that's our game." He added: "We don't want to be a file server platform."
The product roadmap may include Rubrik building its own archive tier.
Sinha said there is a C-minus backup market facing Rubrik's A+ team: "There's been no innovation for 10 years. We're policy-driven. Others are job-based. You want to backup? Create a job."
Sinha on his competitors
Listening to Sinha speak, you get a dismissive impression of the competition, especially Veeam which seems to loom large in his thinking.
With Commvault you're transported back to 1992: "You're pulling your hair out."
With Veeam you're transported back to 1995.

Its data is not global deduped, whereas: "We do cluster-wide dedupe. We are 2 - 3 x more storage efficient."
Veeam uses MS SQL Server as catalog storage; availability is gone if SQL server goes corrupt.
Veeam does array integration with EMC, etc. "We don't need to do that because of our unique, app-consistent snapshots with parallel ingest from primary VMware infrastructure."
We do wonder how Rubrik will cope when it can't claim to be top of the heap of everything it does. At present it has a lovely niche focus, a differentiated product and is like a child who has learnt to walk but hasn't yet fallen over and hurt itself.
Despite that, after a couple of hours of being constantly deluged with Rubrik's credentials and claims, and being told how humble the co-founders are, you're in danger of drinking its Kool-Aid yourself and becoming a Rubrik booster. These Rubrik dudes are insidious. ®