SMB backer-upper Carbonite has gone on an exec hiring spree. The company offers on-premises and cloud backup and is looking for a big boost in growth.
Carbonite has hired:
Christopher Doggett as SVP for global sales, coming from Kaspersky
Norman Guadagno as SVP for marketing, hired from digital marketing agency Wire Stone
Paul Mellinger as SVP of EVault, the acquired Seagate business unit, after 30 years at IBM
The company states: "These senior executives will lead Carbonite's advancement in the SMB business continuity and disaster recovery market following the acquisition of Seagate's EVault."
President and CEO Mohamad Ali said: "When I joined Carbonite just over a year ago, my goal was to make Carbonite the clear leader in cloud-based business continuity for small and midsized businesses. To achieve this goal, we need both organic growth in our core business and strategic expansion into adjacent markets. This requires the right structure, directed by strong and experienced leaders, which is why I am so pleased to have Chris, Norman and Paul on board."
The $14m EVault acquisition should help the core business but can't be seen as a strategic expansion into an adjacent market as both it and Carbonite are offering backup to the cloud for small and medium businesses.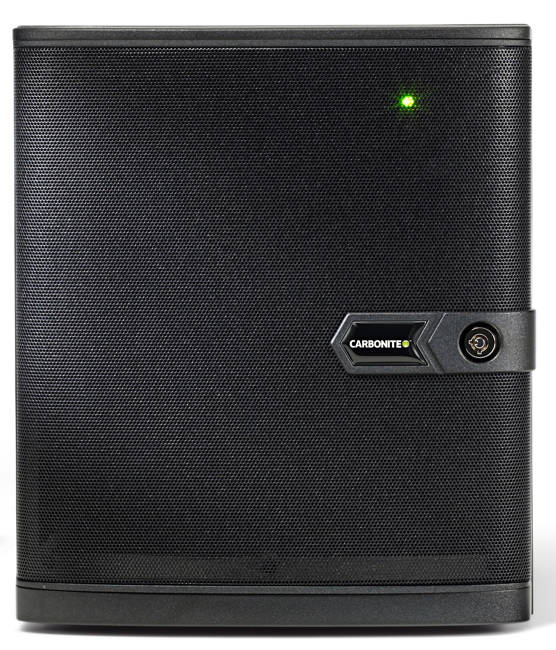 Carbonite desktop appliance
Scott Daniels joined Carbonite's board earlier in January, being a senior analyst at Shannon River Partners, a private hedge fund focused on technology, media and communications companies. He said when he was appointed: "The acquisition of EVault positions Carbonite to capture market share at the high end of the SMB market which expands the company's total addressable market to an estimated $40 billion worldwide."
Comment
Carbonite had revenues of $34.6m in its third quarter ended September 30, 2015. This was a 10 per cent increase on the $31.3m reported a year ago, and represented good but not energetic growth. There was a net loss of $4.5m which was worse than the $0.7m net loss a year ago.
Carbonite will want to show it has the right stuff to make EVault a growth engine instead of the languishing limper it had become at Seagate.
We can expect much tweaking of product and marketing messages and channel activities as the three new execs work to prove their worth. ®