DataCore's benchmarks for SANsymphony-V hit a record high note
65.7% of the performance of a NetApp box for 2.9% of the cost
---
+Comment DataCore's SANsymphony-V software with a parallel IO feature has produced a radical advance in price/performance on the SPC-1 benchmark.
SPC-1 is an objective test and measures the data access performance of a storage subsystem. It enables meaningful performance comparisons to be made between different vendors' systems.
The DataCore Lenovo server system produced 450,290.87 SPC-1 IOPS, the 9th best result. The leading system is a Hitachi VSP G100 flash-accelerated system that produced 1,004,941.89 IOPS. The 5th best system is a NetApp FAS8080EX all-flash one that produced 685,281.71 IOPS with a price/performance of $2.77 in April 2015. Its price was $1.898 million.
The DataCore/Lenovo system has a price/performance figure of $0.08, the system costing $38,400 and 29 cents. We understand this is an SPC-1 price/performance record.
Think on that for a moment.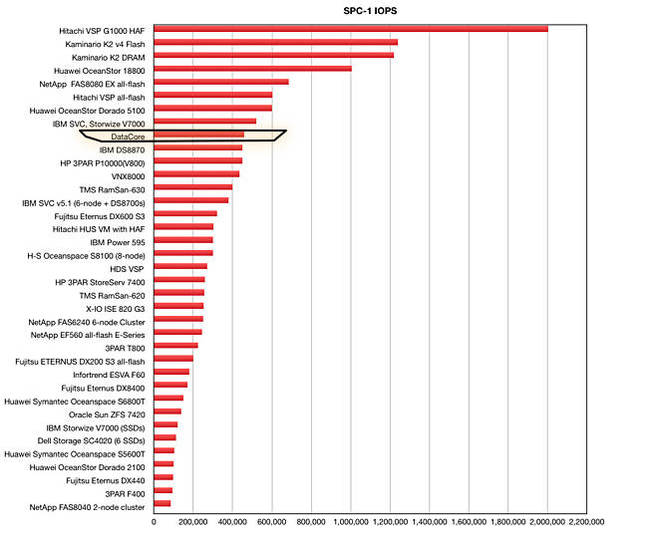 SPC-I IOPS ranking chart
The DataCore/Lenovo system delivered 65.7 per cent of the performance of a NetApp FAS8080EX for 2.9 per cent of the cost. Put it another way; the NetApp array costs 97 per cent more in price/performance terms. Tell me that isn't amazing.
Some more good news. The DataCore/Lenovo system had an average response of 0.32 milliseconds at 100 per cent load. We think this is an SPC-1 record as well.
The SPC-1 IOPS chart-topping Hitachi VSP G1000 had a 1.15 millisecond average response at 100 per cent load, 72 per cent slower and costing 98 per cent more.
This is just unreal.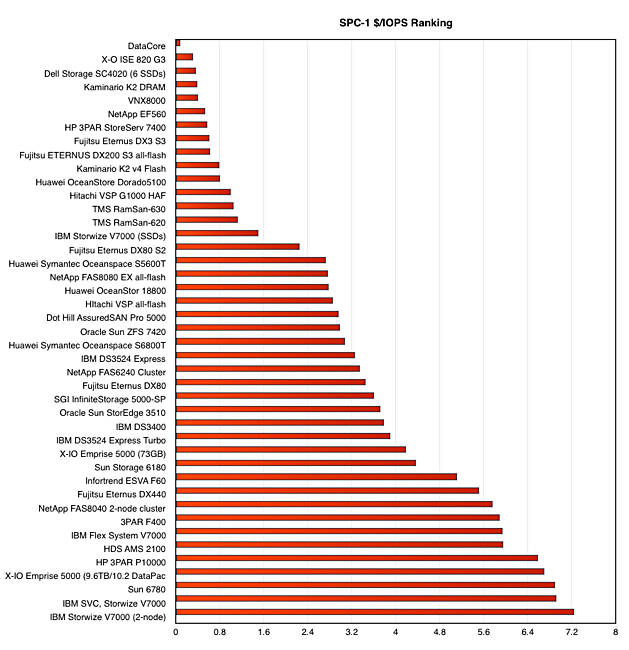 What we can certainly say is that DataCore's software uses cheap commodity server and SSD hardware to blindingly good effect.
Hardware configuration
The DataCore configuration has DataCore's SANsymphony-V v10.0 virtual SAN software running in a Lenovo X3650 M5 server with 2 x 14-core Xeon E5-2695 v3 processors and 544GB of main memory. The operating system was Windows 2008 R2 Enterprise Server w/SP1.
The configured storage capacity was 10.1TB and it was operated in a RAID 1 mirrored fashion. It was composed from 16 x 480GB Samsung SM863 SSDS hooked up via a 6Gbit/s SATA interface. There was a single 500GB Samsung 850 EVO SSD linked to an internal controller for page swapping.
This server had a single internal 300GB 10K SAS disk drive for system software, plus 8 x 300GB 12Gbit/s 15K SAS disk drives – HGST Ultrastar C15K600 mounted externally.
Reg Comment
Why did the DataCore system perform so well? It has an Adaptive Parallel IO feature in SANsymphony-V v10.00, which has the server processor's cores running IO in parallel instead of queuing them up through a single core.
It appears that DataCore's parallel IO virtual SAN running a server with SAS-connected flash storage is the 9th fastest SAN in history in SPC-1 terms, the runaway price-performance leader and the one with the lowest latency at 100 per cent load. We cannot see any way in which an externally-connected SAN, using Fibre Channel or Ethernet, could be faster, because parallel host server IO is so fast.
We would love to know how the DataCore software performs in a server using PCIe-connected flash, as this would cut out the SAS protocol stack and should produce an even higher SPC-1 IOPS number.
Get the full disclosure DataCore SPC-1 report here [88-page PDF]. ®