This article is more than 1 year old
Gartner sees enterprise SSD-HDD revenue crossover in 2017
Flash taking over the mission-critical space and spinning disk out
Comment Gartner gnomes think revenues from enterprise sales of SSDs will exceed those from HDDs in 2017. Well, let's look into that claim.
We all know SSDs are taking over from fast disk drives as the main storage medium for primary data, and now Gartner's esteemed number-crunchers have estimated when the two revenue lines will cross.
There's a chart prepared by Stifel MD Aaron Rakers below showing this.
The enterprise HDD revenue line isn't falling, though, but just flattening out. Rakers said enterprise SSD revenues will have a compound annual growth rate (CAGR) of 20 per cent in the 2015-2019 period, with the equivalent HDD CAGR being four per cent.
This reflects the point that raw per-GB flash costs are higher than the per-GB fast disk drive cost. Rakers points out a view of Seagate's that "the enterprise SSDs should not be considered cannibalistic to mission-critical HDDs".
This El Reg writer thinks that view is, well, nuts. Rakers is doubtful too, pointing out "sub-1TB enterprise capacity shipped declined to the lowest quarterly shipment level in C3Q15 (third quarter calendar 2015) seen since C3Q12".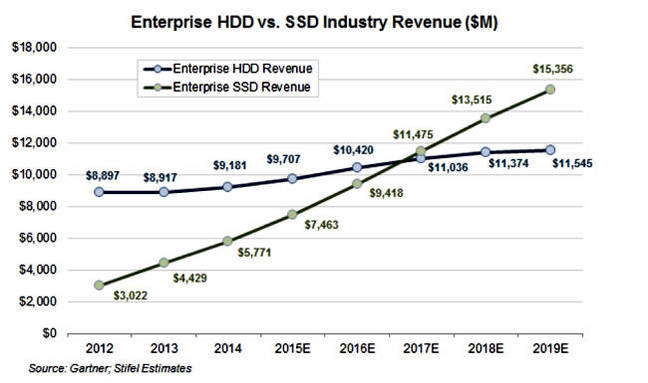 As more flash foundry capacity comes on stream and 3D NAND drives down costs compared with 2D NAND we would expect the enterprise HDD primary data market to experience a downturn, to start spinning down.
Disk latency sucks compared with flash access speed, and there's nothing any disk drive maker can do to remedy that fact, except to start making and selling enterprise SSDs.
Western Digital is further along that road than the sluggish Seagate which, as it has mis-stepped in the capacity-optimised drive space – not making enough 8TB drives and not having helium-filled drive technology until the second 2016 quarter – looks to be a double laggard. ®