This article is more than 1 year old
Windows 10 phones are not dead yet. Acer, Alcatel OneTouch just made some new ones
Primo supports Continuum, but what's the demand for PC phones?
CES Two Windows 10 Mobile smartphones have been shown at the CES event under way this week in Las Vegas.
Acer's 5.5-inch Liquid Jade Primo, first announced in September last year, is a premium device set to be available in February at prices "from €569".
The phone runs on a Qualcomm Snapdragon 808 CPU with 3GB RAM and 32GB on-board storage. There is a 21MP rear camera and 8MP front.
The key feature in the Jade Primo is support for Microsoft's Continuum feature, allowing you to use the phone like a PC when connected to a larger display – though limited to apps that run on the device's ARM processor.
You can connect the phone to an external display using either a USB Type-C monitor, a wireless connection, or the optional Display Dock. Acer will also market a "Desktop kit" bundle, complete with Display Dock, keyboard and mouse.
The idea, claims Acer, is that you can leave your laptop at home, though with all that kit the amount of space you save may be disappointing.
The company also notes the phone's support for BitLocker encryption (not new for Windows Phone) and support for device management using Microsoft Intune or other systems, pitching for the enterprise market.
A more affordable Windows 10 phone is on the way from Alcatel OneTouch. The 5.5-inch Fierce XL has a 1280x720 HD display, 1.1GHz Snapdragon quad-core processor, 8MP rear camera and 2MP front camera. This will cost $139.99 in the US, exclusively on T-Mobile. Information on wider availability and pricing is not yet available.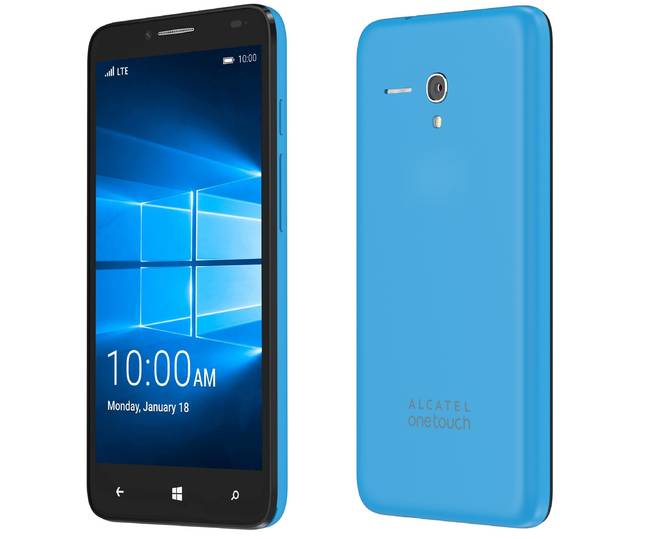 Alcatel OneTouch Fierce XL running Windows 10 Mobile
Unfortunately, it appears that the Fierce XL will not support Continuum, which requires hardware with dual display capability. The ability to connect to an external display is not enough.
Although the advent of new Windows Phone vendors seems positive for the platform, these new models also reflect Microsoft's problems in this market.
The success of the Jade Primo depends on enthusiasm for Continuum, which is unproven, and is it hard to see the low-end Alcatel OneTouch device winning much traction in a market dominated by Android. ®