Barracuda's revenue streams are up slightly, both annually and sequentially, and the storage and cloud-connected security company's net loss also shrank sequentially as William "BJ" Jenkins's team got to grips with the business.
Revenues for its 2015 third quarter were $80.1m, 13.8 per cent more than the year-ago $70.4m, and up 2.2 per cent on the second quarter's $78.4m.
The net loss was $1.6m, a whole heap worse than the $36,000 seen a year ago, but 27.3 per cent better than the $2.2m deficit recorded in the previous quarter.
There was some cloud-connected gloom though, as Jenkins said that "billings came in below our expectations. While we see various dynamics impacting billings ... the shift from traditional and solely on-premises IT solution deployments to hybrid, public cloud and managed service solutions is accelerating faster than we expected, and is becoming pervasive across more of our markets."
Barracuda is seeing encouraging results, it claims, with new firewall and web application firewall products, and is focussing more on virtual products. It's introduced virtual appliances, such as a backup virtual appliance, Jenkns said, as well as "subscription-only solutions with cloud delivered and pay-as-you-go deployment options".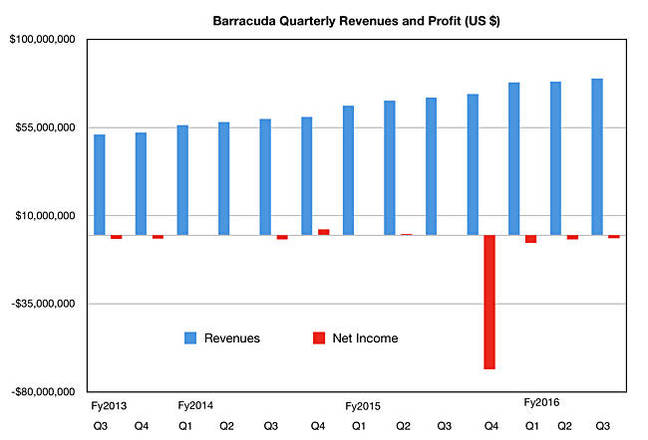 William Blair analyst Jason Ader referred to "a third consecutive disappointing quarter stemming from increasingly apparent structural challenges related to the cloud", and downgraded its shares to a Market Perform status. He adds:
While the company has pointed to execution missteps and changes in product mix (physical to virtual) in prior quarters, management finally conceded that the adoption of cloud computing (in all its forms) is happening faster than anticipated, in all regions, particularly among SMBs (Barracuda's core market).
"The result has been lengthening sales cycles and shorter duration subscription renewals, leading to a large billings miss, though management noted that duration-adjusted renewals remain solid and that the company is not losing customers," the analyst added.
Ader sees pockets of strength in Barracuda's product line up – the company's next-generation firewall and virtual solutions will continue to grow nicely – and says ARR (annual recurring revenue) is still growing in the high double digits.
But, the SMB market is trending away from on-premises kit, even when it is low-cost and simple to use – Barracuda's traditional strength – towards public cloud service provision.
Barracuda has seen this coming and has more product developments in the pipeline, such as an Office 365 cloud package. However, the transition is happening faster than it anticipated, and Ader concludes that the "fast and unforgiving nature of the shifting IT landscape has created a significant degree of uncertainty regarding the company's outlook".
Fourth-quarter revenue is forecast to be between $80-$82m. At the $81m mid-point this would contrast nicely with the year-ago's $72.2m, and mean full-year revenues of $317.5m, some 14.5 per cent higher than fiscal 2015's $277.4m.
The full-year loss is likely to come in at $10m or less. BJ and his team can be moderately content – fiscal 2015's full-year loss was a whopping $67.5m, and they have managed to resume revenue growth and control losses after the fiscal 2015 crisis. ®