This article is more than 1 year old
Swiss try to wind up Apple with $25k dumb-watch
H. Moser & Cie poke fun at Sir Jony's precious arm candy
A Swiss watchmaker is poking fun at Apple, and getting quite a bit of publicity, with a US$25,000 mechanical tribute to the Apple Watch.
The Swiss Alp Watch from H. Moser & Cie features a nearly identical look to the Jony Ive-designed Apple smartwatch, with absolutely none of the digital technology.
The flash mechanical wristwatch requires no batteries and needs to be manually wound every 100 hours. It also proudly sports no apps, no doodles and no heart monitor, focusing instead on what the company says is "the most essential application for the most valuable commodity; your time."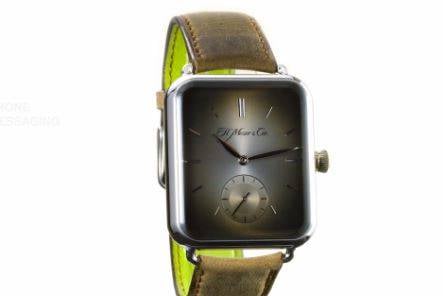 Let's hope Apple's lawyers can take a joke...
"It will let you reconnect with people by getting out there, meeting your friends, and spending time with your loved ones," said CEO Edouard Meylan.
"So get a life, upgrade to a mechanical watch."
The Swiss Alp Watch is, of course, a send-up of Apple and the Apple Watch. The hugely-expensive Alp Watch will be limited to about 50 models, or about 2 minutes worth of Apple Watch sales. It has, however, given the small boutique watchmaker plenty of publicity.
More importantly, the company said, the watch is a show of defiance from the Swiss Watchmaking industry that Apple design head Jony Ive famously predicted the Apple Watch would destroy.
H. Moser & Cie noted that while Apple may have billions of dollars in R&D and marketing budgets to throw around, it and other Swiss watchmakers have a 200-year history and design appreciation that, they say, will survive the smartwatch onslaught.
"These attempts are bound to fail, due to the lack of resources, vision and a captive market," they said.
"The future of Swiss haute horlogerie will be bright, provided it continues to innovative and be creative, while focussing on its inherent values of quality and tradition." ®