Windows 10 makes big gains at home, lags at work
US government data shows weekends are when Win 10 shines
---
Our monthly look at desktop operating system market share has turned up something interesting: Windows 10 looks to be a hit at home but a laggard at work.
We're basing that assessment on the US government's helpful analytics service, which among other things records the operating systems hitting government web sites. Uncle Sam lets us download the last 90 days worth of data on that matter, which we started using in December to augment our regular look at OS market share data from Netmarketshare and Statcounter.
Those two outfits both report steady growth for Windows 10 in December.
Netmarketshare had Windows 10 kicking up from 9.00 per cent in November to 9.96 per cent in December. That's behind its 10.3 per cent share for Windows 8.1 and a resurgent Windows XP, up from 10.59 per cent to 10.93 per cent. The company has Windows 7 dipping by 0.43 to 55.68 per cent between November and December.
Statcounter has Windows 10 11.97 per cent, a big jump from November's 10.18 per cent after Windows 8.1 dipped from 13.02 per cent to 12.14 per cent. Stacounter can't find a jump for XP, but did find just a .05 per cent dip to 8.45 per cent market share. The firm did find a sharpish drop for Windows 7, down from 49.27 per cent to 47.45 per cent.
Windows 10 is building nicely then, just as Microsoft said when it revealed last week that it now runs on 200 million devices.
Uncle Sam's data, however, suggests that most of those devices are in homes, not offices.
Here's our graph of the US government data, expressed as each Windows version's percentage share of the total of Windows traffic reaching federal web sites.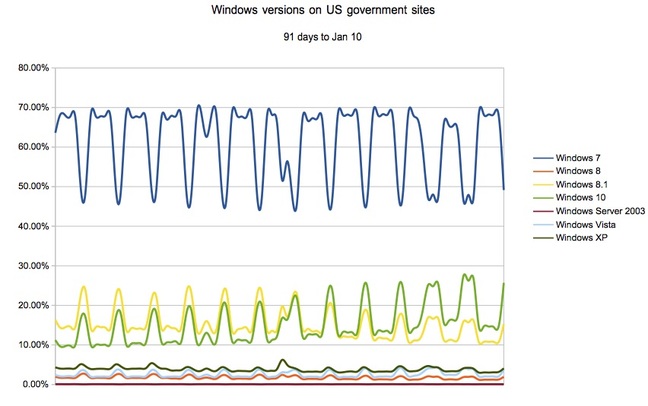 Windows traffic to US government websites 90 days to Jan 10 2016. Click here to enlarge.
See how Windows 7 peaks for five days, then dips? And see how Windows 10 and Windows 8.x surge at the same time Windows 7 dips? Line up the days from the data and you'll quickly see that Windows 7 thrives during the working week and other versions of Windows do better on weekends. The data over on the right hand edge of the graph re-enforces matters as it shows that during the Christmas/New Year period, when plenty of people get time off work due to either mandated holidays or annual leave, Windows 7 takes a longer nap and other Windows versions spend more time out and about.
Microsoft won't be too upset by Uncle Sam's kinky graph: despite always having a few case studies of businesses that rushed to adopt the new version of Windows it knows that businesses are more conservative than individuals and will take longer to make the move. And of course the company is hurrying things along with tactics like killing off pre-loaded Windows 7 Pro as of Halloween 2016 and ending support for old versions of Internet Explorer. ®