This article is more than 1 year old
Er, what sort of Docker experience were you expecting?
Explosion in job postings began well before launch ...
Docker has cited an explosion in job postings looking for Docker experience as a reason for techies to get hands-on with its containerization platform.
In a blog post, the containerization vendor's Mano Marks cited a chart from job-listings site Indeed that shows a sharp increase in Docker-focused job postings worldwide.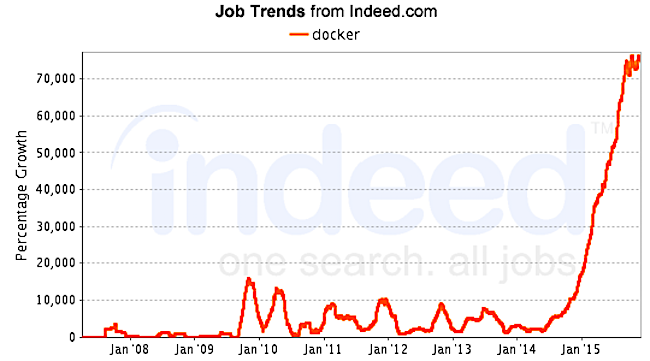 Whoosh ... Indeed.com's tracking of Docker job ads
"It's safe to say that companies all over are investing heavily in Docker to transform their application life cycles," wrote Mano.
"[Docker] will be an incredible asset as you look for jobs in the fast moving DevOps job market as well. Docker use is growing fast. The more you know Docker, the more you are going to be in demand."
Indeed, the chart shows the growth in Docker-related openings was less than 3,000 per cent back in January 2008, just barely 15,000 in January 2010, slumped to well under 10,000 in 2013, and spiked to its current 70,000 per cent growth rate.
If those numbers seem ridiculous, don't forget it's just math: just over 0.06 per cent of Indeed's job postings mentioned Docker by the end of 2015.
But what's more curious is that Docker was only launched on the world in 2013. Were some super prescient companies recruiting people with Docker skills five years before the platform hit the market?
Or do Indeed's figures not quite distinguish between plaid shirt wearing, facial hair sprouting types used to grappling with shipping containers ... and people who ply their trade on the waterfront?
There's no doubt containerization is a hot skill right now. But if your next job results in some grumpy bloke from Tilbury demanding a job on your development team while waving a longshoreman's hook, you'll know why. ®