This article is more than 1 year old
AMD's 64-bit ARM server chip Seattle finally flies the coop ... but where will it call home?
Long-awaited CPU in build systems, SDN gear for now
AMD is at last officially shipping its 64-bit ARM-based server chip, the Opteron A1100 aka Seattle. This wee beastie packs a load of networking and storage interfaces, and is seemingly eyeing up hyper-converged boxes in data centers.
We've gone into plenty of detail on the processor in the past, but to recap: it's a quad or octo-core ARM Cortex-A57 CPU clocked at 1.7GHz or 2GHz, with up to 4MB of shared L2 cache, 8MB L3 cache, and interfaces for up to 128GB of ECC DDR3-1600 or DDR4-1866 RAM split over two channels.
For IO, it has 14 SATA3 ports, two 10Gbit Ethernet ports, and eight lanes of PCIe gen-3. It supports virtualization in hardware, includes the usual ARM TrustZone, and sports a Cortex-A5 system coprocessor to control power usage and ensure the machine boots software that hasn't been tampered with by malware or miscreants.
All of this consumes no more than 25W or 32W, depending on how many cores are in the system-on-chip.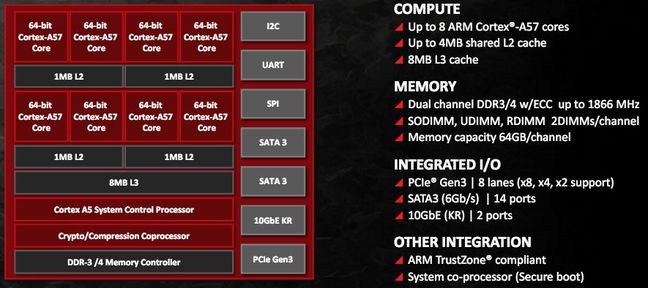 Sleepless in Sunnyvale, California ... AMD's specs for Seattle (click to enlarge)
The A57s are bog-standard ARMv8-a cores; they haven't been customized for any particular application. Instead, AMD has focused on getting the right mix of IO interfaces in the silicon to attract data center hardware makers. AMD is also sticking with the 28nm A57, which was chosen and nailed in place before ARM came up with its 16nm FinFET A72, a faster and leaner Cortex sibling. The A72 – due to appear in smartphones and large tablets this year – benefits from various microarchitecture tweaks over the A57. For example, it has a larger branch predictor that increases performance, a redesigned instruction cache, and other optimizations to increase code execution throughput.
Given Seattle was first touted in early 2014, has been in sampling for many, many months, and that it's now January 2016, we suspect California-based AMD just wanted the thing out there before interest in its ARM silicon died down. The A72 will still be there for future components in the Opteron family. The A1100's A57-based designs have been taped out, the silicon is rolling off the fabs, and there's no going back.
If you want a machine powered by Seattle right now, peek inside a Softiron Overdrive3000 – a build and test server for ARM-compatible code – or a software-defined storage box from Beaconworks. Caswell, Silver Lining Systems, and 96 Boards, are also selling A1100-powered gear. Interestingly, Silver Lining's parent company AtGames Holdings acquired Calxeda's blueprints, and is using the technology to build fabric interconnects for A1100-powered servers.
Calxeda was a startup that tried to crack the data center market with 32-bit ARMv7 CPUs, and failed in early 2014. The server world is reliant on 64-bit address spaces these days, and Calxeda just couldn't get its 64-bit parts out in time. The collapse helped deal a blow to confidence in the ARM architecture as a viable server-class rival to Intel, which has 99 per cent of the data center market sewn up.
While you'll find plenty of ARM microcontrollers in hard drive electronics and other janitorial positions in data centers, you'll rarely find the architecture playing a starring role. If an ARM processor ever prospers in the humming racks of computers that power our online world, it has to be doing something that Intel is doing wrong.
AMD's senior director of data center products Dan Bounds, and corporate veep Scott Aylor, told The Register they reckon they've got three ingredients that will make the ARM architecture finally sing in servers: 64-bit mode, error-correcting code (ECC) RAM, and a tipping point in developer and hardware vendor interest.
Stars aligning
64-bit mode means a larger, more comfortable address space for software requiring large amounts of memory. ECC is a must for systems that cannot suffer any kind of random data corruption.
And as for developers, well, some are pondering whether or not x86 is always the right choice. Intel's architecture traditionally delivers the most bang for your buck: brawny Xeon cores always get the job done – but what about single-threaded workloads that could be handled just as well by a small army of lower-power cores? x86 murders ARM in a punch-up involving raw compute strength, but sometimes that's not solely what you need.
For example, Red Hat, Suse, ENEA, and Linaro have Linux ports and other software – particularly storage controller software – lined up for equipment driven by A1100 processors. Ultimately, with more and more businesses moving some or all their IT into the cloud, thus taking the nitty-gritty of hardware purchasing decisions away from executives, the success of Seattle may hinge on whether large cloud providers decide to use it. Will Amazon and Google engineers find a use for AMD's chips, or are they destined for niche applications in private clouds only?
"We're seeing a new breed of platform developers who want to go beyond basic virtualization and instead do interesting things with file systems, and build things that are fluid," said Bounds.
"Companies at the bleeding edge are the kingmakers – the managed hosting providers, the more advanced cloud hosters – and they are willing to take risks and invest in new technologies."
Below are the machines AMD hopes its ARM Opteron will find a home.

El Reg can easily imagine high-density hyper-converged gear – such as storage and web-facing apps, or storage and software build systems, in one box – powered by burly ARMv8-a cores; appliances tuned for specific workloads.
Or maybe the future really is rows and rows of generic x86 boxes running KVM on Linux. ®
PS: Check out the analysis of Seattle by Timothy Prickett Morgan on our sister site, The Next Platform.