This article is more than 1 year old
After-dinner Mint? Stylish desktop finale released as last of the 17 line
Now with added simplicity (and Windows-isation)
Review Linux Mint 17.3, recently released, will be the last release of the Mint 17 line.
It is the culmination of work that began two years ago, and the final edition of Mint based on Ubuntu 14.04 LTS .
With the stability of an Ubuntu LTS release as the base system, Linux Mint has had eighteen months of development time to focus on the things that make Mint, Mint.
The other thing? That's produced one of the best Linux desktops you'll ever have ever used.
Linux Mint come in two primary flavours, the flagship Cinnamon desktop and the lightweight MATE desktop designed to keep the dream of GNOME 2.x alive (KDE, Xfce and other desktops are also available for Mint). Both are quite capable and provide a more traditional desktop experience than what you'll get with the latest GNOME Shell or Ubuntu Unity releases, but Cinnamon is where Mint really shines.
Linux Mint 17.3 ships with Cinnamon 2.8, which is notable for all the work that's gone into Cinnamon's suite of tool bar applets. The sound applet has been completely revamped for this release, adding track information and media controls, which makes it possible to control everything from a single spot. The applet acts as an all-in-one control center for whichever app you're using to play music – whether that's local files with Banshee (Mint's default music player) or through a streaming service like Spotify.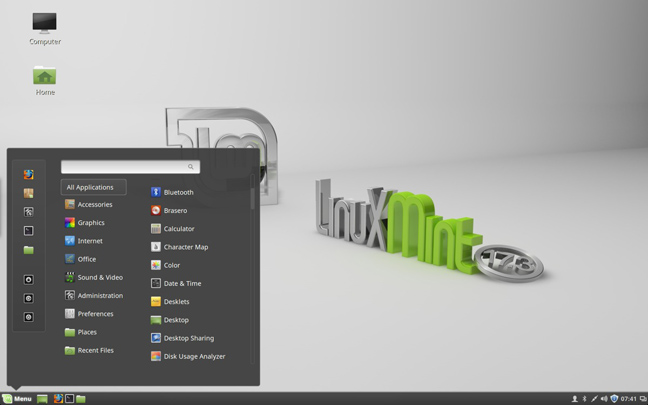 The stock Cinnamon desktop in Linux Mint 17.3
It sounds like a relatively small change but controlling the playback of music is something you probably do dozens of times a day. These small changes are indicative of the level of polish you'll find in this release.
Much of the polish in Cinnamon revolves around things you will likely never notice explicitly. Playing music is just dead simple: you open an app, play something, send it to the background and control it with the applet. The same can be said for the power applet, which now tracks the battery levels of any connected devices; for example, a Bluetooth mouse. Again, it's a tiny feature but an invaluable one when you need it.
This is in fact the overall experience of the Cinnamon desktop at this point. Cinnamon's level of refinement makes it fade into the background so that you can simply work (and play).
Nemo, Cinnamon's default file manager, has had similar improvements, including support for an old Windows favorite, "quick rename." Now you can rename files in Nemo by clicking them, waiting a bit and clicking them again. This one is actually off by default, but you can enable it by heading to Nemo's Preferences, selecting the Behavior tab and checking the option to "Click twice with a pause in between to rename items".
Again, a small but useful feature that solves one of those (potential) paper cut problems you encounter every day.
The MATE desktop is similarly polished, though not a lot has changed in this release. MATE is not quite as slick as Cinnamon, but then its role is different: MATE is designed first and foremost for those who still want the GNOME 2.x experience. To be fair though, at this point MATE is leaps and bounds beyond GNOME 2.
This release sees MATE continuing to expand its window compositor options with new support for Compton, Compiz and even Openbox if you want a really stripped down (but fully functional) desktop. And while Compiz support for "wobbly" windows arrived in the previous release, it's now turned on by default. Take that 2004. Slightly more pragmatic is MATE's new support for two and three finger clicks – as right and middle click respectively – on track pads that support it.
Both Cinnamon and MATE benefit from some lower level changes in this release, including continuing refinements to the already well done Mint software update and sources system. Linux Mint 17.3 adds a feature to Software Sources that will helpfully offer to scan the available mirrors to find you the fastest connection.
It's even smart enough to detect your location and start its speed tests with mirrors near you. Of course if you use any kind of proxy connection this might not work quite as expected. Still, I've tested this with four different installs now, from a multitude of locations through holiday travels and every time Mint has been able to more than double my download speeds thanks to updating the mirrors.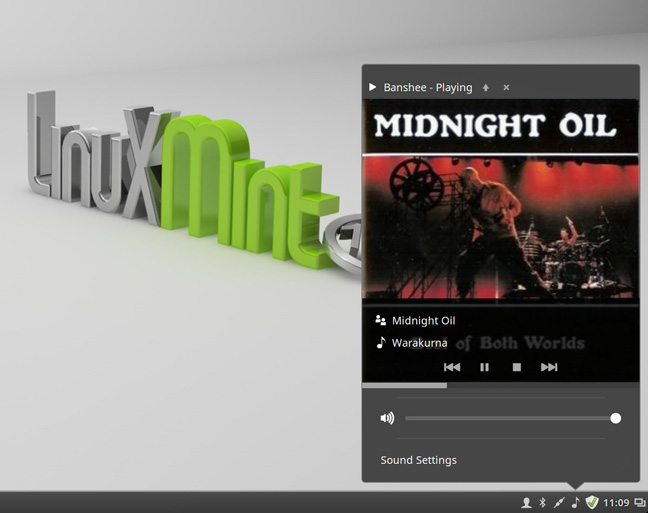 Controlling Banshee with Cinnamon's new music applet
Mint's Update Manager has a new feature that also checks your mirrors to make sure they're up-to-date and will let you know if the mirror or your local cache of it is corrupted. The updated Driver Manager now alerts you to the open source status of all your drivers and can even help out with the horrors of installing Broadcom drivers when it detects a Broadcom Wi-Fi chipset.
Improvements in the bowels of this release include more tweaks to the HiDPI detection. The Linux Mint blog mentions TV screens over HDMI as the main benefit, but this is also the first release where Mint's HiDPI support has worked for me in a VMWare virtual machine.
It's also worth noting that this release has been rock solid in my testing; Cinnamon has not crashed once in over a month of use on several different hardware and VM configuration.
The Linux Mint blog has full details on how to upgrade from various previous releases.
This release is the last before Mint updates its base system to sync with the upcoming Ubuntu 16.06 LTS.
When Linux Mint does update its base system there will be some nice new things available thanks to Ubuntu updates over the last few releases – there's a "technology preview" version of ZFS support, systemd (there goes one of the last holdouts) and Python 3 under the hood among other improvements. How many of these will have an impact on the next release of Mint remains to be seen, but at the very least a newer kernel will be welcome.
With the level of polish already present in this release, all the Mint team really needs to do is make sure Cinnamon works with 16.04 and they'll be ahead of just about every other distro out there.
What comes after that so far is a mystery, though a recent post on the Mint blog promises "a new look and feel" when Linux Mint 18 arrives later this year. ®