IDC's abacus fiddlers say a third of all IT spend goes on cloud
Number crunching exercise shows what we all suspected
---
IDC abacus acrobats have worked out that a third of IT infrastructure spend is going to the cloud, up from just under a quarter a year ago.
In IDC's latest Worldwide Quarterly Cloud IT Infrastructure Tracker it's revealed that $7.6 Bn was spent on cloud IT infrastructure in the third 2015 quarter.
IT infrastructure spend means servers, storage and Ethernet switches according to IDC's numerical funambulists. The Q3 FY 2015 total represented 33.8 per cent of all infrastructure IT spend, and was 23 per cent higher than the $6.15bn reported a year ago. That figure was 28.7 per cent of all IT infrastructure spend, so the cloud proportion has grown by 15 per cent in 12 months.
The private cloud took $2.9bn, up 18.8 per cent on the year, while the public cloud accounted for $4.6bn, an increase of 25.9 per cent on the year. In other words, public cloud use is growing faster than private cloud use.
By implication, non-cloud, on-premises IT infrastructure spend was $14.9bn, 66.2 per cent of the overall spend, making cloud a minority interest, although a growing one. This was 3.2 per cent lower than a year ago.
IDC has calculated and tabulated vendor shares and growth in the cloud IT infrastructure market: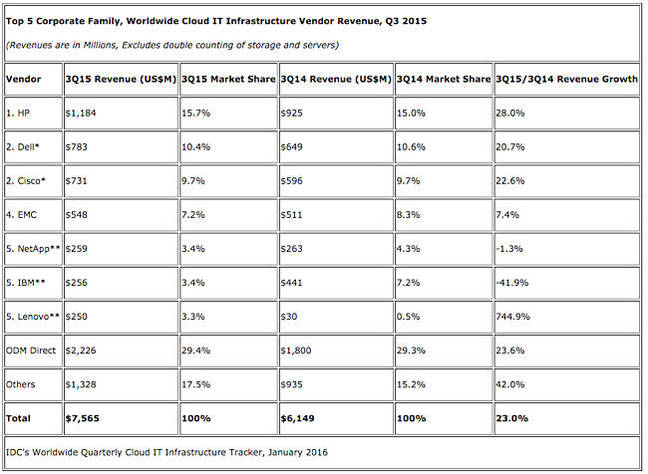 It should be noted that Lenovo's outrageously high growth figure is due to it getting the IBM x86 server business. Dell and Cisco were number 2 in a statistical tie, with NetApp, IBM and Lenovo also in a statistical tie in the 5th position.
Scanning this table gets us thinking HP (now HPE) did very well, being top-dog in revenue and in growth, discounting Lenovo's aberrant 744.9 per cent growth. Dell and Cisco also did well, growing revenue share in double digits.
But EMC undergrew the market, 7.4 per cent versus 23 per cent, while both NetApp and IBM saw decreasing revenues.
ODMs, original design manufacturers, grew their revenue at 23.6 per cent, possibly mostly to public cloud suppliers, while the general "Others" category grew 42 per cent. ODMs and Others jointly took 46.9 per cent if the revenue; darn near half and slightly higher than the 44.5 per cent they took a year ago. Faltering mainstream vendors, meaning EMC, NetApp, and IBM, are in trouble, as is Lenovo unless it grows fast.
IDC's abacists charted the vendor shares;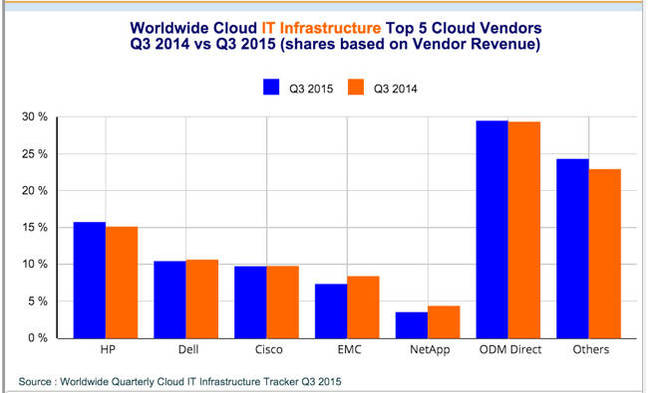 The chart vividly shows the dominance of ODMs and "Others". We suspect that the top five vendors are clinging on to private cloud and legacy on-premises businesses with a grip of iron. Whether that grip is strong enough to withstand the seemingly unstoppable and growing colossus that is the public cloud is debatable.
They are all promoting the hybrid cloud idea but that might be, somewhat tastelessly, likened to living with cancer and hoping it doesn't kill you. But then can anyone think of any chemotherapy that can arrest the public clouds' relentless growth?
Put it another way; is the public cloud the equivalent of global IT climate change, and can its growth be stopped? ®
Similar topics
Broader topics