¡Bong!
"Here in my Car.
I can only receive
I can listen to you
It keeps me stable for days
In Cars"
- David Bowie and Brian Eno: "My Life in a Bush of Ghosts"
Jan 1st
Grand Cayman
I scan the New Year's Honours with some dismay.
Previous years have been studded with digital recognition. Past recipients have included an MBE for Mike Bracken of GDS, and a knighthood for Nigel Shadbolt of the open data quango, the "Open Data Quango".
Arise, Sir Nige!
Now that's the mark of a country that "Gets It".
And I have no arguments about the choices made this year. I had personally recommended Dr Sue Black for a peerage. She's the author of two of the seminal texts on which the modern internet is built: "A Survey of social media use in software systems development" and "Using Web 2.0 to improve software quality - both published in her Annus Mirabilis, 2010. She has purple hair, a vagina, knows Stephen Fry, and tweets nonstop. A worthy winner, you'll agree.
And so too is Clare Sutcliffe, founder of CodeClub, "for services to technology education".
But what about all the other leading entrepreneurs and thinkfluencers who are making Britain digital?
Huh?
My Huh? turns into WTF? as I scan the list, and discover Black and Sutcliffe are alone.
What about Rohan Silva, who has transformed East London into a Utopia for nontrepreneurs, and brought "Nudge" into Government? Or Mike Butcher, whose TechFugees is "designed to foster, create and spread tech solutions for refugees fleeing death and destruction in their homelands", like where to sign up for tax credits.
I think of Ayn Rand, who reminded us: "Throughout the centuries there were men who took first steps, down new roads, armed with nothing but their own vision." These are such men. (And probably some girls).
Surely an OBE isn't too much to ask for? Are the Conservatives losing their sure digital touch, I wonder?
* * *
January 11th
Shoreditch
I awake early to discover a leading pioneer of popular music has died. David Bowie. This is going to be a grim day for anyone who messed around with Mama's makeup in the 1970s. Bowie was not only a great personal friend, but as this futurist rightly points out: "pop music's Chief Disruption Officer".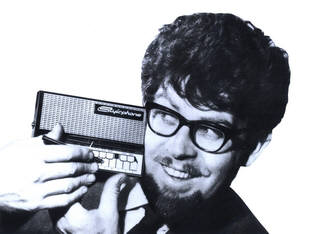 Bowie's avant garde phase helped create Krautrock.
Here he is teaching Kraftwerk how to use a synthesizer
He was always years ahead of the mainstream, whether he was Seig Heil-ing from a limousine years before Mrs Thatcher got elected, or buying Kraftwerk their first synthesiser, a Rolf Harris Stylophone.
And the frantic calls for advice begin to come at once. It's going to be a make or break day on social media.
Let's see how people coped.
First Osborne. The Chancellor's team are on the case at once:
So sad to hear about the great David Bowie - his music was a backdrop to my life. An incredible icon of British creativity who made us proud

— George Osborne (@George_Osborne) January 11, 2016
Two minutes later, the Prime Minister takes a break from renegotiating the UK's membership of the EU, and updates on the UK's bombing of Syria, for this heartfelt tribute:
PM: I grew up listening to and watching the pop genius David Bowie. He was a master of re-invention, who kept getting it right. A huge loss.

— UK Prime Minister (@Number10gov) January 11, 2016
By midday, Dave had crossed platforms, spreading his sadness over to Facebook:
My tribute to David Bowie: https://t.co/16v9ccMwy1

— David Cameron (@David_Cameron) January 11, 2016
Smart.
But what about Team Corbyn?
Oh.
They've forgotten everything I taught them last summer.
And the LibDems?
Even after prompting, by moi… Nothing.
Still no statement on the death of David Bowie from @LibDems. And they call themselves a Party of Government?

— Steve Bong (@BongVentures) January 11, 2016
And HM's official opposition?
No one wants industrial action, but the government's handling of negotiations has been a shambles. #juniordoctors

— The Labour Party (@UKLabour) January 12, 2016
Totally off-topic. It's a day to put politics aside guys, for a completely insincere tribute to somebody famous you don't know.
Why? Because when a global cultural touchstone like David Bowie pop his clogs, it's a huge opportunity for personal brand-building. If you can't trust our leaders to honour the occasion, how can you trust them once their fingers are on the nuclear trigger?
* * *
January 12th
Somerset House
She's back, and she means business.
Digital business.
Thank you wonderful @SomersetHouse for the new @doteveryoneuk space - the perfect place to make Britain brilliant in the network age

— martha lane fox (@Marthalanefox) January 13, 2016
We're launching the UK's first 5050tech Challenge for start-ups | Doteveryone - encouraging women into tech https://t.co/9TF3gA7QiN

— Stephen Fry (@stephenfry) January 12, 2016
And with public funding and key thinkfluencers totally on message, I see great things ahread:
Coding is the language of the future. If women don't learn it, we won't be in the future. @Marthalanefox has a plan: https://t.co/eUN2fANMGf

— Caitlin Moran (@caitlinmoran) January 12, 2016
Martha might just have saved 51 per cent of humanity from extinction. Maybe, I muse, the Conservatives still have their digital touch. ®
Steve Bong (official title: Lord Bong of #businessmodel) is the founder of Bong Ventures, an early stage investor and incubator focusing on innovative new technology startups based in Shoreditch, London. When he's not helping rear the next generation of business models, Steve enjoys parties and foreign travel, extreme cuisine, Open Data and draws his inspiration from Ayn Rand and His Holiness the 14th Dalai Lama. He advised (then hired) No.10 policy guru Rohan Silva on mindfulness and innovation, Lily Cole on innovation in giving, Mark Zuckerberg on the Perfect IPO, the Republic of Kazakhstan on emergent social media strategies, LOCOG on brand enforcement, and imagineered the Olympic Opening Ceremony with Danny Boyle, Shoreditch's #guardian coffee coffee shop with Jemima Kiss, and was the social media consultant for Edward Snowden and Lady Thatcher's Funeral. A recent attempt to arm the Syrian rebels with iOS7 sadly failed, however. He emphatically declined to assist the Islamic Caliphate in creating viral and engaging content. He recently resigned from GDS and weathered a storm of factually inaccurate reporting about Bong LLC's office culture, and is currently designing MINSOCK (the Ministry of Socks) for Britain's next Prime Minister, Jeremy Corbyn. He helped develop the movie Steve Jobs, before parting company with Boyle citing artistic differences.
Put on your red shoes and Tweet, with Steve @BongVentures