This article is more than 1 year old
NYSE fed up of Violin's bum notes, threatens stock market ejection
Could a reverse stock split be the answer? We take a look
Violin Memory is under notice of being delisted from the New York Stock Exchange because its stock price has been less than $1.00, on average, for 30 days. The company has said it will regain listing compliance.
To be compliant with NYSE listing practice a stock's average closing price has to be at least $1.00 over a 30-day period. Violin's stock price plunged below $1.00 on Dec 3, 2015, and has been less than a dollar, apart from brief excursions above $1.00 on Dec 23, 24 and 29, ever since.
On Jan 8 the NYSE notified Violin its stock price was not in compliance with this rule and gave it six months to regain compliance, during which its stock remains tradeable.
In a statement Violin said it intends to cure the deficiency.
CEO and president Kevin DeNuccio said: "Our stock price remains at a level that we do not believe reflects the true value of our business and developed technology."
"One year ago," he continued, "Violin made a strategic shift and product line transition to become a market leader in flash-based primary storage for enterprises with its Flash Storage Platform offering. While this product transition has been challenging, Violin continues to be selected by some of the largest enterprises in the world in their most mission critical applications. We remain focused on completing this product transition and our return to growth. At the same time, we continue to evaluate our strategic alternatives with the guidance of an investment banker, Jefferies LLC."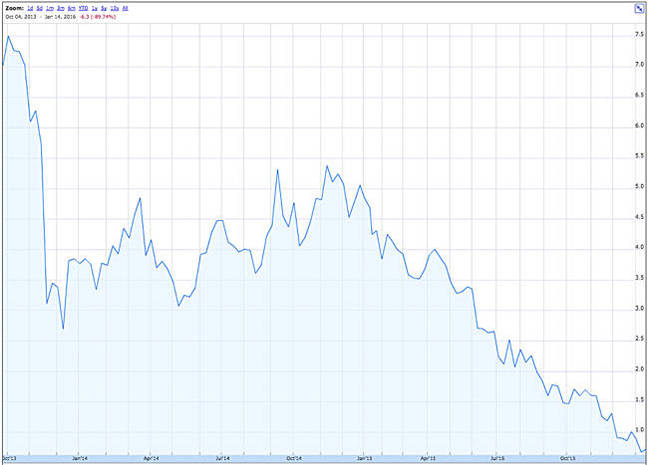 Violin Memory's stock price history since its IPO. Click chart to see a larger version.
There are two basic ways for Violin to regain compliance:
Raising its revenues so that investors rate the stock more highly
Doing a reverse stock split
The first option is not under Violin's direct control, it not being able to dictate that customers should buy its products – and that, even if it could, investors should value the stock more.
The second option was alluded to in Violin's statement, which said: "If Violin determines to remedy the non-compliance by taking action that will require shareholder approval, such as a reverse stock split, the NYSE will continue to list Violin's common stock pending shareholder approval no later than Violin's next annual meeting of shareholders and the implementation of such action promptly thereafter."
In a reverse stock split the number of shares is cut, for example, in half, so that investors get fifty new shares for every 100 shares they own. Logically each new share should be worth twice as much as an old share.
Violin's shares are currently trading at $0.72 at the time of writing, so a 2:1 reverse stock split would theoretically lift the price to $1.44. That would give Violin NYSE listing compliance and a breathing space in which it could work to trade its way back to health or undertake some strategic level action, such as a company sale, which ends the problem.
Ah, yes, the problem of customers not buying enough Violin Memory product. Customers are not on strike. Indeed, Violin says, "a major global financial services company has deployed Violin's Flash Storage Platform (FSP) 7300 arrays for the second phase of a data centre buildout."
The first phase involved Violin's earlier 6000 arrays so here we have an existing customer upgrading to the new FSP platform.
In November last year the Korea Exchange bought the Violin 6616 for its trading system, and one of the largest US healthcare and dental plan companies added Violin's 7700 Flash Storage Platform (FSP) to its existing Violin deployment.
The problem is that these are enterprise-class sales and there aren't enough of them. Perhaps there has been a product strategy mis-step by Violin, in that it doesn't have cheaper, simpler-to-sell, entry-level arrays. Be that as it may, the products it has are the products it has.
This NYSE de-listing threat provides yet another headache for Violin's board and exec team as it wrestles with an activist investor, sorting out the tardiness of existing customers to upgrade to the 7000-series product, and the hunt for new customers.
To that end it hired Steve Querner as VP for North Americas sales in December. He comes from Microsoft where he spent 4 years as VP Sales for the StorSimple array business, spending four years before that as IBM's North Americas sales lead for XIV, with time at EMC and Cisco before that.
Let's hope he's a miracle worker. ®