This article is more than 1 year old
Test burn on recycled SpaceX rocket shows almost all systems are go
Reuse plans looking good ahead of Sunday's launch
Elon Musk has confirmed that the Falcon 9 rocket his firm landed last month has successfully completed a test firing with almost no problems.
Conducted hold-down firing of returned Falcon rocket. Data looks good overall, but engine 9 showed thrust fluctuations.

— Elon Musk (@elonmusk) January 16, 2016
Musk said that the issues with the ninth engine, one of those positioned on the outside ring of the rocket's motors, could be down to debris that was sucked in during December's launch. Engineers will be using a borescope – a flexible camera designed to examine crevices in machinery – to check for the cause.
Most of the rocket's parts have been extensively tested since SpaceX got the hardware back to its labs, but today's test burn shows that Musk's plans for reusable rockets that could dramatically lower the cost of orbital delivery look sound. The data on the other eight rocket motors looks good he said.
Elon's Musketeers may soon have another engine to test out, if Sunday's launch and landing goes ahead as planned. SpaceX is launching NASA's JASON-3 ocean-monitoring satellite from Vandenberg Air Force Base in California, but this time the landing will be doubly difficult.
Countdown to Sunday has begun! #Jason3 heads to the @SpaceX pad atop the Falcon 9 rocket. https://t.co/vPPnuUFeXd pic.twitter.com/s1g7XBekde

— NOAA Satellites (@NOAASatellites) January 16, 2016
The Falcon 9 that SpaceX has already landed was its most advanced model, the Version 1.1 Full Thrust, which has enlarged fuel tanks and uses oxygen fuel chilled down to -340 Fahrenheit (-207 Centigrade) for extra thrust and efficiency.
By contrast Sunday's launch will use the last of the more basic Version 1.1 rockets that SpaceX has been lofting since 2013. It has a shorter range and less thrust, but has the "x-wing" stabilizers and retractable undercarriage that's needed for a successful landing.
The second problem for SpaceX is that this landing attempt will have to be held out at sea, rather than on terra firma. SpaceX doesn't have a West Coast landing pad so instead the good ship Just read the Instructions will be heading out to sea - after receiving a new lick of paint - to retrieve the Falcon's first stage.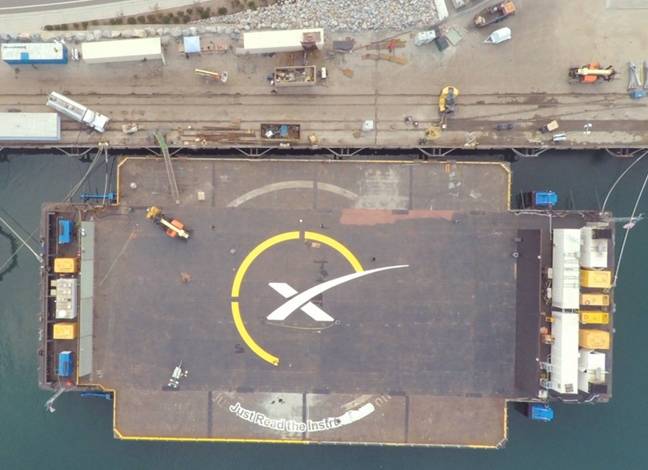 Spruced up and ready to rumble. Credit: SpaceX
The unmanned semi-submersible landing barge will be held in position by four thrusters and will be loaded with ballast to keep it stable, but it's not a static platform like Mother Earth. Successfully landing a 41-meter rocket vertically onto a platform shifting with the waves is going to be a tough call.
Nevertheless, the SpaceX crew is going to give it a go. While the firm's upgrade cycle means the rocket will never be used for another commercial launch, it will give the engineers a valuable insight into how well their designs stand up to repeated use if they can get it back to the lab.
Even if the launch isn't successful SpaceX will get a lot of useful data, thanks to US military budgets. Vandenberg has state-of-the-art radar, imaging, and telemetry tracking systems that will follow the Falcon from takeoff to landing.
"Every mission produces its own unique challenges, and within each mission-set each launch is different," said 2nd Lieutenant Ryan Yeager, the Second Range Operations Squadron commander.
"We have our major players on the range; the 576th Flight Test Squadron for the Minuteman, United Launch Alliance with their Atlas and Delta missions, and now we have SpaceX. Another unique aspect is the X-37 which lands here. Each one of those mission areas provides a learning curve for each operator."
Sunday's launch is scheduled for 1042 PT (1842 UTC) from Vandenberg's Space Launch Complex-4 and the weather reports are looking very good, which will be crucial as there's only a 30-second launch window. Both NASA and SpaceX will be streaming the event live online and many will be tuning in to see if sea-borne landings really are going to be the next big thing. ®