Content crasher Adblock Plus says it has been uninvited from an advertising industry confab after paying a pricey entrance fee.
The online advertising scrubber will have to stay home and sob after the Interactive Advertising Bureau reneged on its approval for the Annual Leadership bash in California this weekend.
Adblock Plus, which as the name suggests blocks online advertising for its users, paid and turned up to last year's event in what surely caused delegates to ask 'who invited him'.
Members of the US$50 billion online advertising game would seem to have taken issue with Adblock Plus's return.
Adblock Plus operations manager Ben Williams (@b__e__n__w) says it copped a "sudden" rejection after paying up.
Emails Williams published show the Bureau said there is "no ticket available" to Adblock, and that the money has been returned.
Adblock's bemused inquiry led to the terse, formal, and vapid response from the Bureau restating only that its registration was reneged. "In about five minutes of email exchanges with colleagues, we went through something similar to the five stages of loss," Williams says.
"Like dis-inviting us will make the problem somehow go away! We contacted the IAB's CEO Randall Rothenberg directly to ask him to reconsider this decision, and we got … crickets."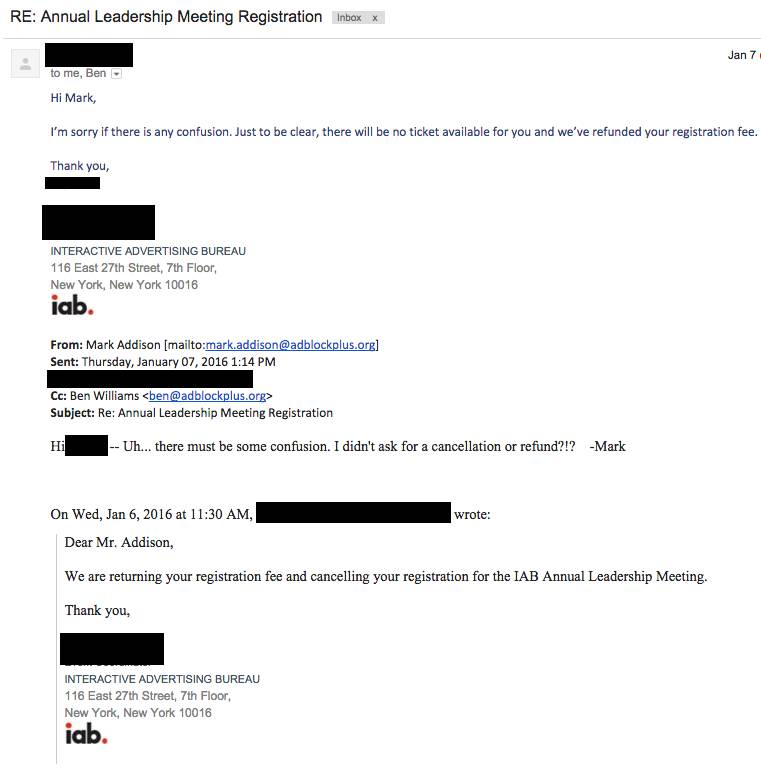 Image: Adblock Plus
Williams says the Bureau is rejecting Adblock Plus at its own peril, citing Bureau executive Scott Cunningham who in October said the industry "messed up" on account of spewing annoying and bandwidth-heavy advertisements.
The over 400,000,000 downloads of Adblock Plus are not going to "go away."
"Dis-allowing Adblock from attending your event solves nothing. We will proceed to work with others to build a sustainable monetisation model for the internet."
Adblock Plus urges advertising companies to follow its criteria for acceptable ads, a feat that surely makes it the bore at the cocaine content confab.
Ad blocking is not just a tool of content pirates who would rather stem revenue streams than stare at flashing gifs; the dangerous and explosive rise of malvertising gives blockers, including script blockers, a major security benefit since it reduces net user exposure to ransomware and other malware.
The biggest advertisers appear to have done very little to make meaningful contributions to reduce the malvertising threat. ®
Feature: Malware menaces poison ads as Google, Yahoo! look away.