Boards.ie floored by DDoS assault
Irish forum goes away with the fairies for a while
---
Productivity in the Emerald Isle may have peaked on Tuesday with an outage of popular forum boards.ie coming on top of Twitter's TITSUP moment.
The popular boards.ie discussion board was out for the second day following an apparent denial of service attack.
The DDoS, by parties as yet unknown, was confirmed via the official boards.ie Twitter account. Of course, not everyone noticed as Twitter has been up and down for most of the day.
That account, like the rest of the site, remains sporadically unavailable on Tuesday.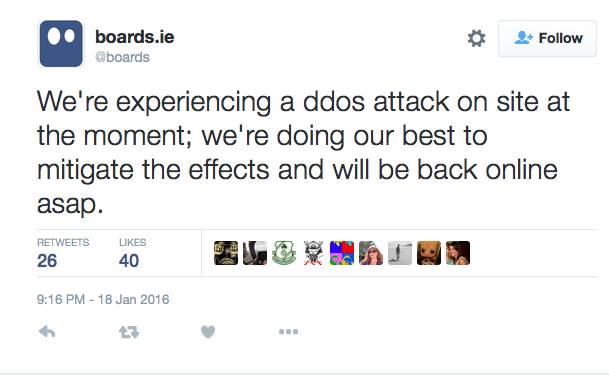 Keep calm. She'll be fine
The topic of the attack also spawned a thread on Reddit. ®
Similar topics
Broader topics