This article is more than 1 year old
HDS brings out all-flash A series array
HFS means HDS is taking on Pure and EMC XtremIO directly
Hitachi Data Systems is taking its marketing attack direct to XtremIO and Pure Storage with a brand new, entry-level, all-flash array storage line, the HFS A series, separate from its existing VSP and HUS arrays.
The HFS (Hitachi Flash Storage) product comes in three models: A220, A250 and A270, each with dual active:active controllers and up to 60x1.6TB SSDs in a 2U rack enclosure. The A270 controller has 256GB of total cache, with the others at 128GB. Average response time is less than one millisecond.
A220: 16TB raw and 700,000 random read IOPS
A250: 48TB raw and 900,000 random read IOPS
A270: 96TB raw and 1,000,000 random read IOPS
Taking RAID overhead into account, the usable capacities are 20 per cent less. HDS says the effective capacity is five times the usable capacity, through data reduction.
Upgrades are non-disruptive, with the A220 upgraded to the A250 with a 20-drive pack, and the A250 made into an A270 with a 30-drive pack.
With the A270 offering up to 384TB effective capacity in 2U, HDS claims it is the industry's densest all-flash array. It claims the capacity density (TB/U) is 5-10x better than competitive models from EMC and Pure Storage. They are also more power-efficient as the energy consumption (Watts/TB) is lower than both a dual x-brick XtremIO and Pure Storage FlashArray //m70, says HDS.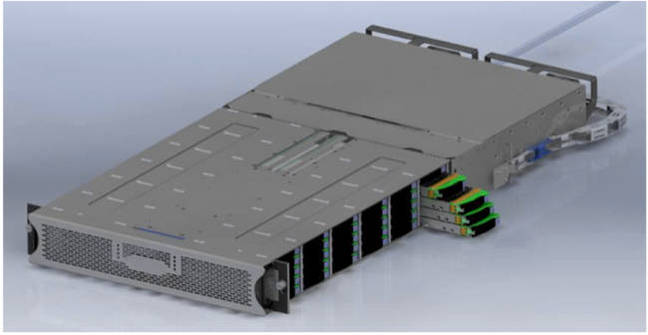 Slide deck grab of HFS A series box showing side SSD slots
The NAND used is 2bits/cell MLC and the SSDs have a SAS interface. There are 30x2.5-inch SSDs loaded each side of the enclosure in six rows of five slots.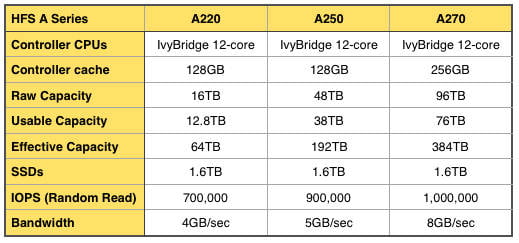 HFS A series basic specs
These HFS arrays have a new operating system, HFS Software, written specifically for the product. Its data services include in-line deduplication, compression, thin provisioning, snapshots, replication (asynchronous and synchronous) and encryption. These are user-selectable so as to optimise for performance or storage efficiency. Deduplication block size can also be tuned to balance data reduction rate with performance.
Host connectivity options are 16 x 8Gbit/s FC and 8 x 10GbitE or 40GbitE ISCSI. InfiniBand and 16Gbit/s FC are coming.
There can be up to 64 copy-in-write snapshots per logical volume, and logical volumes can be cloned for redundancy.
This system has Quality of Service (QoS) features with both maximum IOPS and bandwidth controllable at a logical volume level.
HDS says the systems are easy to install and can be up and running in minutes.

Rear three-quarters view of HDS HFS A series box
Product context
Back in November HDS upgraded the flash version of its range-topping VSP array with 2nd generation, PCIe-connected flash modules featuring in-line compression (FMD DC2). There are 1.6TB, 3.2TB and 6.4TB modules and they are loaded into a 2U drive tray.
These flash modules are not used in the HFS system, standard 2.5-inbch SSDs being used instead.
The all-flash VSP F series array uses these flash modules, and comes in three variants: F400, F600 and F800, featuring up to 375,000, 800,000 and 1.4 million random read IOPS respectively.
HDS' hybrid flash/disk VSP G series also commenced using the FMD DC2 modules at that point.
The company also has HUS 100 arrays and a HUS VM array family that slot in below the VSP F and G series.
The HFS A series can be virtualised within HDS's SVOS environment.
As the HFS A series is a purpose-built all-flash array, incapable of having disk storage, it should meet the criteria for inclusion in the all-flash editions of Gartner's Magic Quadrant and IDC's marketscape, from both if which HDS has been excluded in the past.
HFS A series bezel design
Competition
The prime competitive focus is on EMC's XtremIO and Pure Storage's FlashArray //m. HP's 3PAR 7450c is also in the same market area but HDS is paying less attention to that. The attributes HDS is concentrating on are density, performance and electricity draw.
The A series comes in a 2U enclosure, while XtremIO needs 6U for a 250,000 random read IOPS system and the Pure 11U for a 300,000 one.
HDS says the HFS A270 has:
8 times better capacity density than a dual x-brick XtremIO system and 4 times better than Pure's //m70
18 times better random read IOPS per U than a dual x-brick XtremIO system and about 5 times better than Pure's //m70
Almost twice the energy efficiency (Watts/raw TB) of Pure's //m70
The random read IOPS numbers are those from systems with deduplication turned off. There is, we're told, little effect on random read IOPS when dedupe is switched on but some effect on random write IOPS once the dedupe is operating.
Compared to AFA industry leader's XtremIO (EMC), Pure Storage (FlashArray //m), HPE (3PAR), and IBM with its FlashSystem, the HFS needs less space for similar capacity and draws less power.
For example, Pure Storage provides up to 300,000 random [32K] read IOPS in an 11U enclosure, while Xtremio offers 250,000 random [4K] read IOPS in 6U.
HDS will also send the HFS in to bat against Violin Memory's FSP, IBM's FlashSystem, X-IO, and all-flash versions of hybrid arrays from Dell, EMC, IBM, NetApp, Tintri, Tegile and others.
Roadmap
Here is a roadmap for intended HFS developments:
1st quarter calendar 2016

Windows certification
VAAI certification

2nd quarter calendar 2016

REST API
Encryption (KMIP)
16Gbit/s FC
OpenStack Cinder support
VASA plug-in
Native CLI

3rd quarter calendar 2016

UCP for Oracle
Replication between HFS and VSP G or F series products
SCSI reservation support for Windows clustered hosts
56Gbit/s InfiniBand

4th quarter calendar 2016

Scale-out support
Hitachi Infrastructure Director management integration
System integration with HDID, HNAS, HCP and more UCP
Larger capacity SSD
The scale-out support coming in the last 2016 quarter is interesting as that is something Pure Storage does not have. It will enable the HFS arrays to compete with larger and existing scale-out systems such as those from Kaminario and Solidfire.
HDS is thinking seriously about adding an NVMe interface capability but there is nothing it can about that in roadmap terms at the moment.
Price and availability
A street price for an entry-level A220 with 16TB of raw capacity is $125,000, which includes all hardware and software, installation, and three years of support.
A $/GB price for an A270 is less than $1.50 per usable GB.
These numbers are sufficient that HDS thinks it will be able to undercut EMC XtremIO and Pure Storage in the average deal.
The HFS A series is generally available now. ®